VIDEO: Watch All 13 Goals From Alex Morgan and USWNT's World Cup Beatdown of Thailand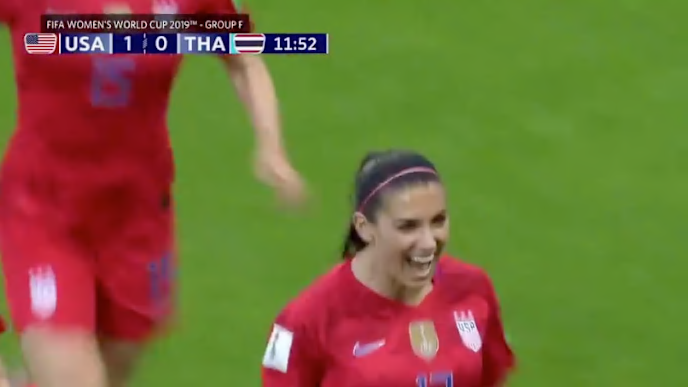 The US Women's National Team didn't just have themselves a day, they had themselves a week. They absolutely obliterated Thailand in their World Cup opener, winning by a final of 13-0. It was an absolute clinic that you have to see to believe. Alex Morgan got things started in the 12th minute on a cross from Kelley O'Hara.
Then it was Rose Lavelle to cushion the lead just nine minutes later.
A free kick from Tobin Heath found the back of the net via Lindsey Horan in the 32nd minute and made it a 3-0 game, and that's how the score would stay heading into the half.
Seems like a good time to put things into cruise control, right? WRONG. The US was far from done.
As the second half opened up, so too did the floodgates. Sam Mewis scored in the 50th minute to make it 4-0.
Morgan netted her second just three minutes later to make it 5-0.
Barely giving Thailand a chance to breath, Mewis scored her second in the 54th minute. 6-0.
Two minutes after that, Lavelle scored her second to make it 7-0.
After a brief respite, Morgan decided that a seven-goal lead wasn't safe enough, and completed the hat trick to make it 8-0 in the 74th minute.
Then it was Megan Rapinoe on the 2-on-1 rush in the 79th minute to make it 9-0.
Morgan, still feeling that the game wasn't quite out of reach, scored her fourth to put the US up double digits, 10-0.
And with a healthy six minutes left before stoppage time, Mallory Pugh (why was there stoppage time at all?!) potted the 11th goal, tying the record for largest win in Women's World Cup history.
Just a few minutes later, Morgan made history of her own, scoring her fifth of the match to make it 12-0.
Finally, Carli Lloyd, showed no mercy, scoring to make it 13-0 in stoppage time.
What. A. Beatdown. Better luck next year, Thailand!