VIDEO: Utah Star QB Tyler Huntley Drops Quote of the Season to Insult BYU After Big Win in Holy War
By Michael Luciano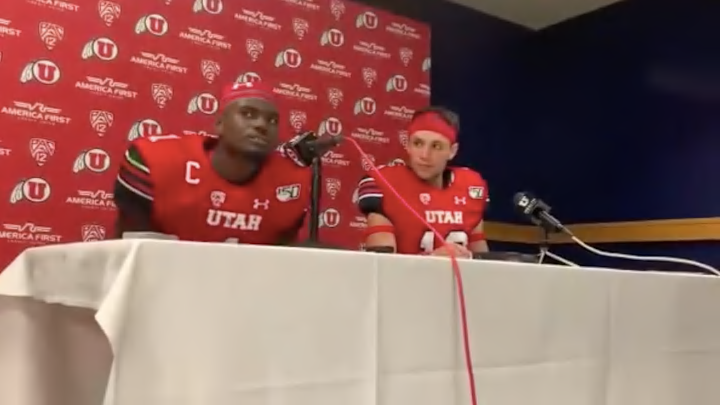 Utah and BYU don't exactly like each other, and this animosity makes the "Holy War" one of the most contested rivalries in all of college football. Quarterback Tyler Huntley led Kyle Whittingham's Utes to a resounding 30-14 win over Kalani Sitake, Zach Wilson and BYU in Provo to pick up their ninth straight win. Huntley relished in his win over their biggest rivals, calling them the one word no football team ever wants to be called.
Huntley is quickly garnering a reputation as quite the character due to his postgame press conferences, as this wasn't the only time he would get in a dig at the Cougars.
While Huntley had an efficient night at LaVell Edwards Stadium (13-16 passing, 106 yards passing, 39 yards rushing on eight carries), running back Zack Moss was the driving force in this win.
Moss ran for 187 yards and a touchdown on 29 carries in a performance that the NFL scouts in attendance were sure to love.
The last time BYU beat Utah, we were in the first year of Barack Obama's first term and Owl City's "Fireflies" was the No. 1 song in the country. Max Hall and Harvey Unga took down Jordan Wynn, Eddie Wide, and the Utes.
For all the good he's done at BYU, Sitake needs to get this monkey off of his back.