VIDEO: Pascal Siakam Ends Powerful First Quarter for Raptors With Thunderous Dunk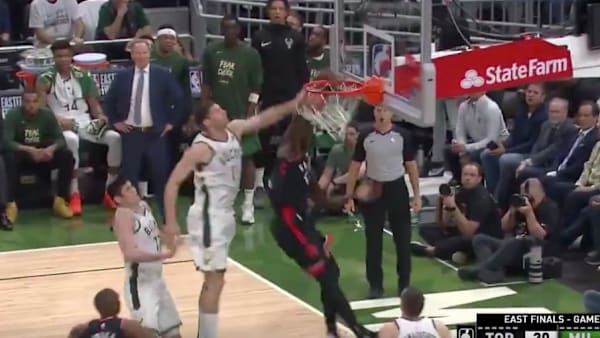 Toronto Raptors forward Pascal Siakam ended the first quarter of the Eastern Conference Finals with one monstrous slam dunk, firmly announcing that his squad is here to stay.
They ain't scared of no Bucks.
After making a move on Bucks defender Ersan Ilyasova, Siakam was able to drive the lane, carving a clear path to the basket. If I were an NBA player, I'm staying away from this guy if he drives the lane after this thunderous slam.
The Bucks looked absolutely stunned at the sheer force that came down with the dunk. We just found out that Siakam is a pretty powerful dude.
Siakam has played great throughout the year and is a key reason why the Raptors are where they are right now. This season, he has averaged just under 32 minutes a game, posting 16.9 points and 6.9 rebounds.
Siakam has also opened eyes in the playoffs as well. Since the start of the second season, he is averaging 20.8 points per game to go along with 7.3 rebounds. His defensive play has shined down the stretch as well.
The dunk sent shockwaves through the arena, and don't be surprised if you see it on SportsCenter's Top 10 Thursday morning.