VIDEO: Pablo Sandoval Leaves Game With Lacerated Pinky After Being Stepped on by Max Muncy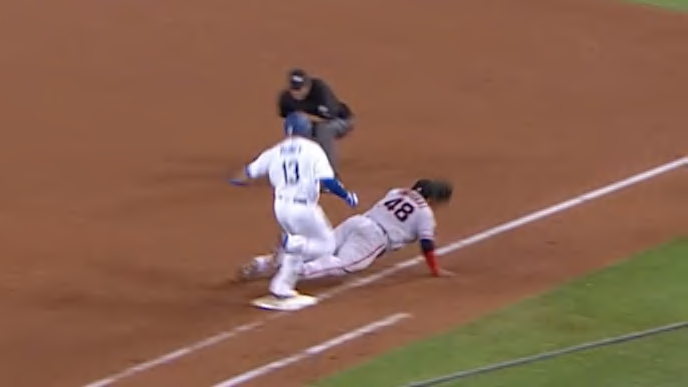 Pablo Sandoval is as tough as they come, but even he wasn't able to shake off a painful-looking injury that he sustained on Monday night. In the bottom of the fifth inning, the Dodgers' Max Muncy hit a ground ball up the middle. Giants shortstop Brandon Crawford ranged to his left and made a beautiful spinning throw to first that forced Kung Fu Panda to stretch for it. Sandoval stayed on the ground to ensure that his foot didn't leave the base, but as he used his hands to brace his landing, Muncy stepped on his right one while trying to beat the throw.
Ouch. Talk about a full-on stomp job. Just imagine the pain of a cleat spike, stepping on your hand at full speed.
Sandoval instantly knew something was wrong, and San Francisco's trainer decided that the two-time All-Star couldn't stay in the game after examining him between innings. The 32-year-old vet was later diagnosed with a lacerated pinky.
The Giants consider Panda as day-to-day, and they will see how he feels in warm-ups on Tuesday. And of course, in typical Sandoval fashion, he said he didn't want to miss any time.
To only walk away with a lacerated finger, however, should be considered a major win for the Sandoval and the Giants.