VIDEO: Never Forget This Absolutely Sick Erik Karlsson Saucer Pass Right to the Tape of Mike Hoffman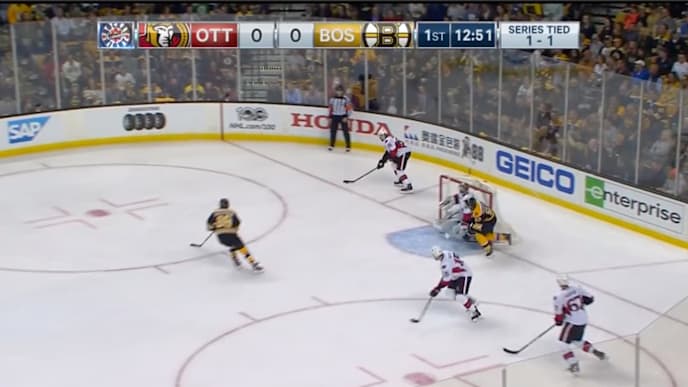 Even though Erik Karlsson has fully established the second act of his career with the San Jose Sharks, there's still time to remember the best moments he had with the Sens. As one of the NHL's most skilled defensemen, some things just come naturally to the 29 year-old Swede. One of those things is, without a doubt, dishing the puck.
It's hard to tell if that's Karlsson or Tom Brady launching that Hail Mary pass. It's even harder to tell which part of this play is sicker, the pass or the goal. You have to consider the amount of skill and finesse that saucing a puck from your goal line to the opposing blue line takes.
Plays like this, along with so many other highlight-reel moments, are what earned Karlsson an eight-year extension worth $92 million with the Sharks.
Although his past year in San Jose wasn't filled with these types of play, he most certainly still has them in his repertoire. He's always been known more for his ability to move the puck and read the play as opposed to depositing goals like his fellow San Jose d-man Brent Burns.
Regardless of how he performs in the future, never forget the plays that made Karlsson what he is today. To this day, he's still one of the most technically skilled players in the entire world and plays like this one prove that.