VIDEO: Lucas Giolito Stars in Awesome 'Field of Dreams' Game Promo for Yankees vs White Sox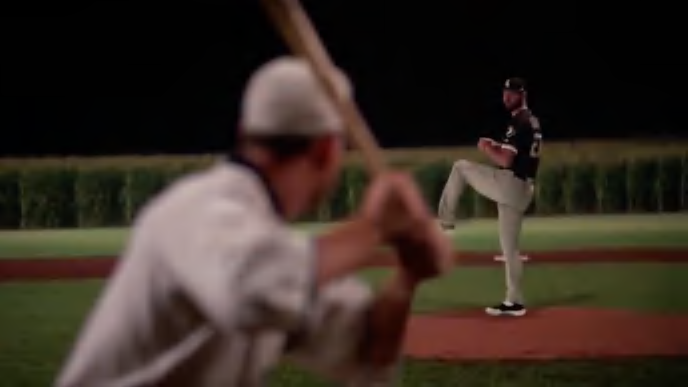 When Major League Baseball announced the New York Yankees and Chicago White Sox would play one game at the "Field of Dreams" film site in Iowa next year, South Side hurler Lucas Giolito was ecstatic. And on Tuesday, he showed off his acting skills during a reenactment of a scene from the film as part of an official MLB promo spot.
Giolito takes the role of Kevin Costner's Ray Kinsella, grooving a batting practice fastball into the wheelhouse of Ray Liotta's "Shoeless" Joe Jackson. (Jackson was actually a left-handed hitter in real life, but we will let that one slide.)
The White Sox ace has already expressed how much he wants to pitch in the one-off game, and even his dad is pushing the White Sox to pitch Giolito in Iowa.
The game will not be held on the actual field from the movie; rather, a temporary 8,000-seat venue will be built on the site of the farm where that field was located. Fans will be able to see the actual field over the right field fence.
The only thing that could make this game better is if the game were played with even fewer spectators and without a stadium buildout at all-- just the players, coaches, and umpires. No press or broadcasters. Just get some cameras in there to televise the purest version of the game.