VIDEO: James Madison Softball Star Megan Good is Literally Unstoppable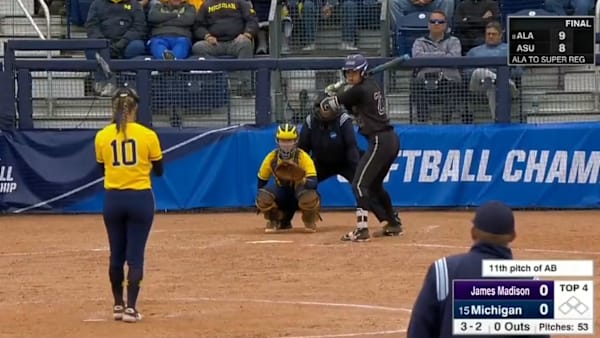 The College Softball World Series is in full swing, and one of the biggest surprises so far has been the underdog run of James Madison University, who knocked No. 15 Michigan out of the first round. The key to their success has been star Megan Good, who has been literally unstoppable so far both on the mound and in the batter's box.
Good, who has more than lived up to her last name, slugged a solo homer to give her team a lead midway through their second game against Michigan, which ended up being a 2-1 victory.
But there's more to her than her clutch hitting. Good has thrown 25-2/3 innings so far and has allowed just two runs in three games against the No. 15 team in the nation.
And she throws GAS.
Her outstanding efforts have almost single-handedly carried James Madison to the Super Regionals. Her name is definitely one to keep an eye on as the Dukes take on UCLA later this week.