VIDEO: Gareon Conley Injury in Slow Motion Shows Johnathan Abram Crashing Into Him on Flagged Hit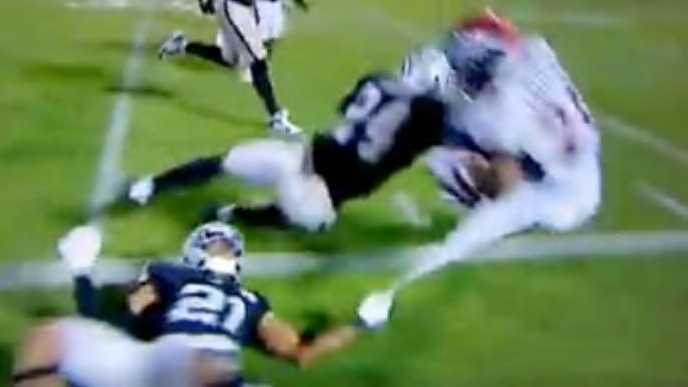 This is the type of football we'd like to avoid in a perfect world, but there's always going to be that guy coming in to "finish the play" in what fans can easily see as unnecessary. Yes, the game is fast, but with the reputation Johnathan Abram has made for himself in training camp (magnified via "Hard Knocks"), it's clear his aggression needs to be scaled back, especially since he was flagged on the play that injured Gareon Conley, and certainly didn't need to come in like a freight train to put an end to the play on the sideline.
It also doesn't help his comments after the game were ... weird?
"Them harsh legs?" Also, if he doesn't know what happened, he should probably watch the film and realized he went helmet-to-helmet with Broncos RB Royce Freeman (and got flagged for it), which sent his body flying recklessly into his teammate.
Once again, the dangers of football are well documented, and players are aware of the perils they put themselves in each and every week, but this unsafe environment created by a few loose cannons can really put players in even more of a risky situation.