VIDEO: Ezekiel Elliott Has Hilarious Reaction to Drilling Line Drive Out in Cowboys Home Run Derby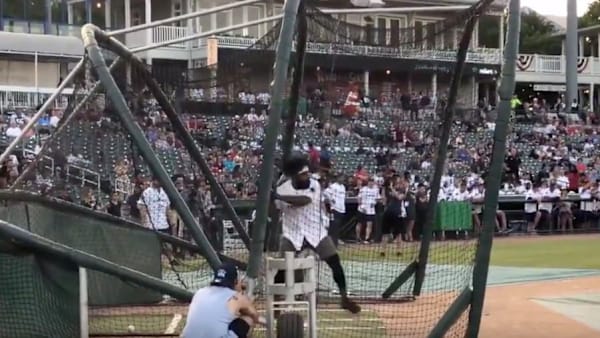 Dallas Cowboys running back Ezekiel Elliott might want to trade in his football helmet for a baseball one after this mind blowing line drive out. Check out the uncoiling reaction!
Spinning around looking totally out of sorts, Elliott managed to hit the ball a long way during the Cowboys' Home Run Derby. His reaction was even more priceless.
Elliott simply couldn't believe what he had just done. I don't think anyone expected him to hit the ball that hard and far, either. He for sure has some baseball skills; we now know he can hit and run.
The Cowboys were trading in their pads for baseball bats because of a charity event, the Reliant Home Run Derby, an annual competition between teammates.
It looks like Dak has some baseball skills as well, as he raised $9,300 dollars with five home runs of his own. Also on hand were Jason Witten and Sean Lee.
The Dallas Cowboys are now not only known for their cheerleaders and Jerry Jones' big ego, but are now officially the sluggers of the NFL. Jones and head coach Jason Garrett may have a few messages on their answering machines tomorrow from MLB teams' front offices...at least, for a sideshow.