VIDEO: Browns Knock JuJu Smith-Schuster Out of Game After Concussing Him on Helmet-to-Helmet Hit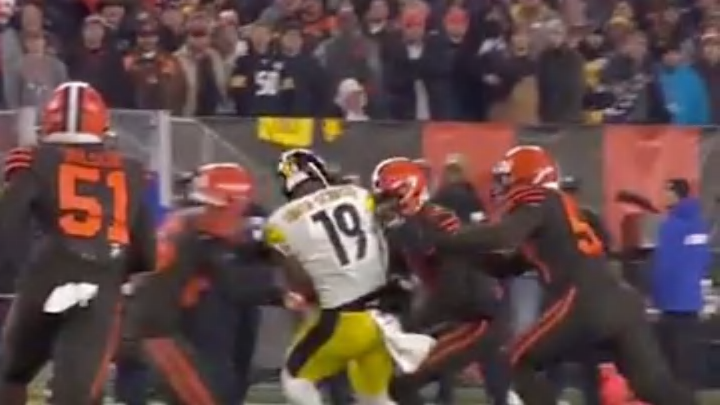 The Pittsburgh Steelers have had a rough go of things in the first half against the Cleveland Browns on Thursday. Now, they'll have to continue without their star offensive player. After retreating to the locker room with team training staff, Steelers wide receiver JuJu Smith-Schuster has been ruled out for the remainder of Thursday Night Football due to a concussion. Here's the hit that resulted in his injury.
Smith-Schuster's injury occurred during the second quarter. After recording a reception, he was hit in the head twice by Browns cornerback Greedy Williams and safety Morgan Burnett via helmet-to-helmet contact.
Entering Week 11, the third-year receiver recorded 36 receptions for 503 yards and three touchdowns on the year.
Additionally, the Steelers offense lost starting running back James Conner to a shoulder injury. And yes, it was the exact same shoulder in which he suffered an AC joint sprain in Week 8 against the Miami Dolphins.
The Steelers offense has been stagnant behind young quarterback Mason Rudolph, even with Smith-Schuster and Conner on the field. Now without both, the task of Pittsburgh extending their winning streak became much more difficult.