VIDEO: Bengals RB Joe Mixon Crunches Josh Norman With Nasty Stiff Arm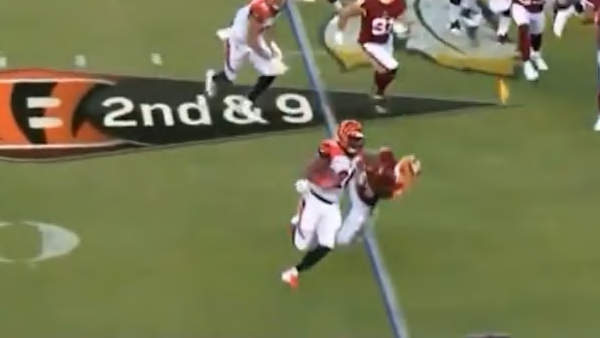 Cincinnati Bengals running back Joe Mixon enters his third season with plenty of hype, with the potential of being one of the best at his position if the stars align. Mixon displayed one of his positive attributes on Thursday night against the Washington Redskins. Early on in the game, Mixon rushed outside towards the right sideline, where he found Redskins cornerback Josh Norman in his lane. Instead of juking him, Mixon gave Norman a vicious stiff arm, bringing the former Pro Bowler to the ground.
If this play showed us anything, it's that Joe Mixon is going to be a problem for defenders this upcoming season.
In myriad ways.
The game giveth and taketh away for the 'Skins so far in this one; though Andy Dalton gave them a pick-6 after the ball bounced off a wayward human body, this will not go on the end-of-year defensive highlight reel.