UFC's Paulo Costa Tweets and Deletes Racist Attack on Middleweight Champ Israel Adesanya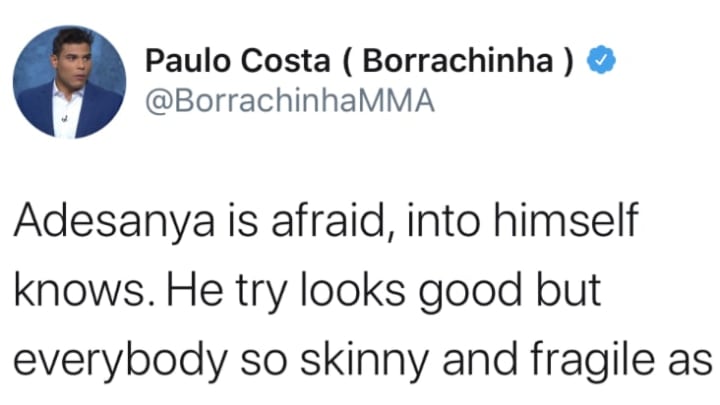 In case there was any doubt amid their ever-increasing war of words, UFC bruiser Paulo Costa is NOT a fan of middleweight champ Israel Adesanya.
Costa adamantly believes that Adesanya is reluctant to face him in the Octagon with the title on the line, and on Tuesday, the Brazilian unleashed a disturbing rant of racist tweets directed at the champ. As expected, "Borrachinha" deleted most of the authentically NSFW, offensive posts, but evidence of his aggressive classlessness can be found at the link below.
That's right, folks, Costa went out of his way to pull out the racist card, labeling the Nigerian-born, New Zealand-naturalized Adesanya with demeaning language about his ancestry. He even took a shot at his appearance, calling him "skinny and fragile," throwing in a homophobic slur on top of it all.
Costa somehow made things worse when he replied to a comment by stating, "I wanna kill only 1 African. That skinny bigmouth."
Ironically enough, the Brazilian didn't opt to delete that absurdly offensive tweet, which might just be the worst of the bunch.
This petulant tirade is no doubt the product of the fact that Costa was set up to challenge The Last Stylebender for the middleweight crown. Unfortunately for him, he ended up needing to undergo shoulder surgery and will be on the shelf for a while.
Adesanya subsequently angled toward Yoel Romero, whom Costa defeated in an absolute thriller of a slugfest at UFC 241 back in August. And all that did was rile up Borrachinha in the worst way.
Still, there is just no excuse for Costa to take his misfortunes out on Adesanya's race or appearance. And to claim he wants to kill the champ will likely see UFC boss Dana White send a harsh punishment his way. The fight game is violent, but some things are just too far out of bounds.