Twitter Destroys the Rockets for Tone-Deaf James Harden Tweets Right After Giannis Wins MVP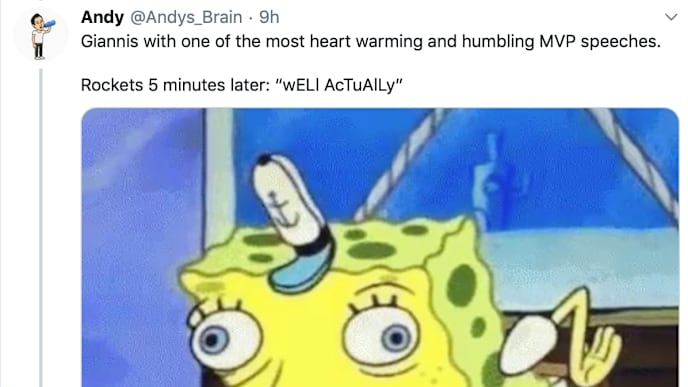 Giannis Antetokounmpo's gracious, emotional, authentically tear-jerking acceptance speech upon being named 2018-19 NBA MVP will surely be the talk of the league this week right up until the explosive launch of free agency. Despite terrific seasons from fellow finalists James Harden and Paul George, the Bucks superstar thoroughly deserved the award, and gave us a memorable moment on top of it during Monday night's NBA Awards telecast.
But, that didn't stop the Houston Rockets' official Twitter from spoiling the moment in head-scratching, teeth-gnashing fashion
Uhhhh... what? Oh, and that wasn't all.
This is such a dumb hill to die on, Houston. You can congratulate your franchise player all you want, but right after Giannis gets the crown? Pick your spots, guys. Come on.
The Twitterverse noticed, and responded accordingly.
Co-sign.
It could have been so, so simple.
Last year, it was CP3's hamstring. This year... yeesh.
WINNER WINNER! And you thought Crying Jordan was dead.
Boom. That's all she wrote.
Aaaaaaaand dismount.
It's going to be a hell of a long summer in Houston at this rate.