Tim Tebow Has Been Slightly Less Terrible in Triple-A Recently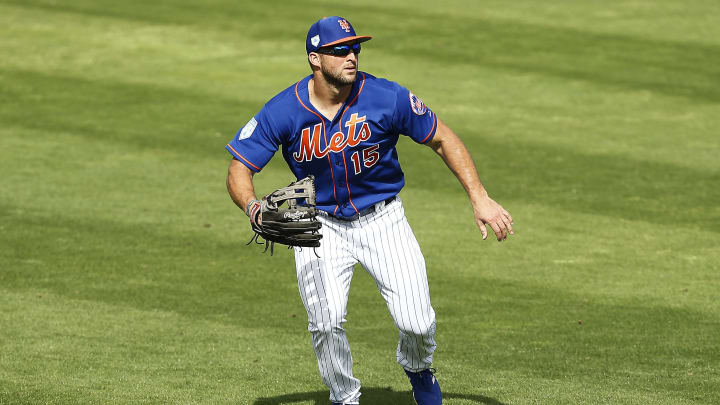 Michael Reaves/Getty Images
While the New York Mets struggle to fend off the label of being the most dysfunctional organization in sports (with a little help from the Knicks), their almighty savior looks to be turning a corner in Triple-A. Tim Tebow, the quarterback-turned-minor-leaguer, who the Mets signed as barely more than a publicity stunt back in 2016, is apparently on a mini "tear" with the Syracuse Mets.
He has hits in five of his last six games, adding 2 home runs and 4 RBI during that span. This hot streak has brought his average up to –– wait for it –– .163 on the season.
Honestly, Tebow has no business being in Triple-A, but his success brings some ironic joy to Mets fans who are having a hard time enduring the circus their MLB team has become.
This is no knock on Tebow's character and work ethic, and he's proven a lot of doubters wrong by outperforming expectations in his minor league career thus far. That being said, his stats in Double-A last season hardly merited a promotion, and his performance so far this season is proof that he's out of place at a higher level.
For Mets fans' sakes, let's hope Tebow keeps tearing it up and gets above the Mendoza line. Until then, we'll keep patiently awaiting the barrage of tweets every time he hits a 321-foot home run.