Tim Duncan Joining Gregg Popovich's Coaching Staff on Spurs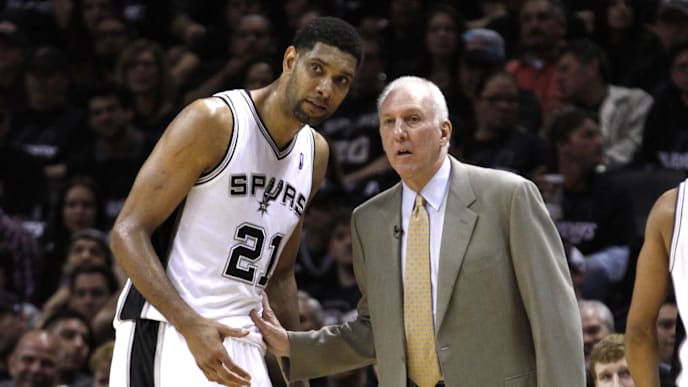 Tim Duncan's retirement didn't last very long. He's already set to begin the next phase of his NBA career.
The former San Antonio Spurs legend is going to rejoin the team, just not as a player. Duncan plans to join Gregg Popovich's coaching staff as an assistant.
"It's only fitting, that after I served loyally for 19 years as Tim Duncan's assistant, that he returns the favor," said the legendary Spurs coach.
A surefire Hall of Famer, Duncan spent all of his 19 NBA seasons with the Spurs. In addition to being a 15-time All-Star, he and Popovich spearheaded the Spurs' ridiculous run of dominance that saw the team capture five NBA Finals.
He'll no doubt be a fantastic addition to San Antonio's already stellar coaching staff. After all, he didn't earn the nickname "The Big Fundamental" for no reason.
Popovich and Duncan had a fantastic relationship together during Duncan's playing days, and if they have anywhere close to that level of chemistry on the same coaching staff, they could easily prove to be one of the best coaching tandems in the entire NBA.