The Brits Need to Stop Hyping Overrated Fighters Like Callum Smith and Billy Joe Saunders Another week, another English super middleweight star laboring -- nay, sleepwalking! -- against an opponent he was supposed to demolish. Such is the double-edged sword that is the British fight game. The fans are as passionate as they come and will travel to the edges of the world to support their flock, but sometimes, their golden boys end up being sorely unable to stand tall in the brightest of spotlights.
Case in point: world super middleweight champions Callum Smith and Billy Joe Saunders, who both won fights this month but exposed themselves as utterly beatable fighters propped up by hype they haven't done much to earn.
Contention 1: John Ryder Got Robbed and Callum Smith is the Champion of Nothing
Anyone with at least one working eyeball could have told you that John Ryder outboxed and outclassed Smith Saturday in Liverpool. The WBA super middleweight champ saw his significant height and reach advantage nullified by the aggressive Ryder, who crowded him and dictated the pace. To see Smith prevail not simply by unanimous decision, but with the help of a ridiculous 117-111 card was simply laughable.
It was scoring that reeked of sneering intent -- the desire to serve up a super-fight at 168 pounds between Smith and Canelo Alvarez. Forget that ol' Callum got beat by any objective measure, we can't let that get in the way of a good pre-determined narrative!
Contention 2: Canelo Alvarez Would Beat Billy Joe Saunders Like an Old Rug
Speaking of Canelo, you can forget about convincing anyone to pay to watch him fight Billy Joe Saunders; it would be over faster than a Minor Threat song. On the KSI-Logan Paul 2 undercard -- let that sink in for a moment -- the WBO super middleweight champion stumbled his way through a date with Marcelo Esteban Coceres as if he were gradually letting out the world's longest recorded sigh. Sure, he won by 11th-round TKO, but getting a stoppage against a rando without a Wikipedia page shouldn't even count as a win. Nobody plays down to the level of his opponents quite like BJS, and that's a damnable shame.
Send a Venmo request to this guy equivalent to the price of the DAZN subscription you panic-bought that damnable night. KSI and a freaking Paul brother put on a more interesting fight than you did.
Bonus Contention: Anthony Joshua is a False Idol and Muscles Are a Lie
...And Tubby Rocky is the truth.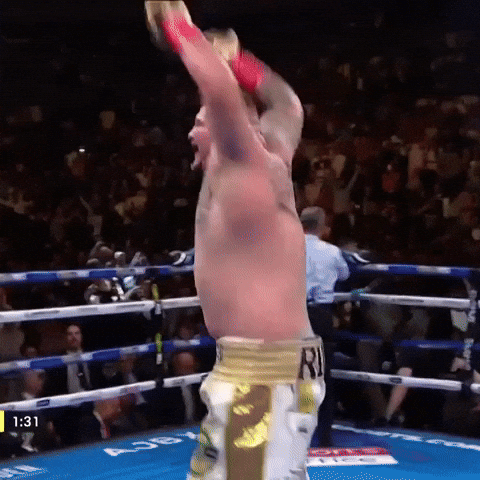 If Joshua somehow wins his rematch with Andy Ruiz Jr. on Dec. 7, he had better not slip up and demand a unification bout with the Deontay Wilder vs. Tyson Fury winner. He'll get dusted like an old bookshelf. And yes, I'm only writing this to make you mad.
Folks, I'm not an Anglophobe. After all, some of my loudest friends are British. But while we Americans have had trouble giving guys like Wilder, Bud Cawford, and Errol Spence the proper love they deserve, you lot have counterbalanced our wheezing, atrophied fandom with the kind of delirious buzz many of your most stanned facepunchers cannot back up for the life of them.