Skip Bayless Moves on From Whining About Kawhi Leonard to Whining About Marcus Morris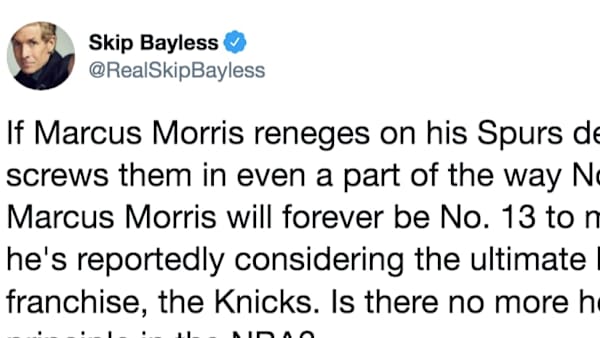 While the city of San Antonio has likely distanced themselves from FS1 loudmouth and hot take machine gun Skip Bayless, he's still views himself as the authority on all things Spurs.
Still wounded by Kawhi Leonard demanding a trade, then winning a championship the year after he got out of Dodge, Skip now has Marcus Morris in his crosshairs. With Morris considering leaving the Spurs at the altar to sign a one-year deal with the Knicks, Skip took to Twitter to attempt to rip Morris for his lack of loyalty.
You know he didn't sign a contract yet, right Skip? While it might be a bit rude for him to encourage RC Buford to trade Davis Bertans to the Washington Wizards to accommodate him, it's hardly worth blowing your top over.
If you don't watch Undisputed, basically everything wrong with the league is LeBron or Kawhi's fault. While his Morris-bashing is an on-brand move, that doesn't make it any less annoying.
How could someone have the audacity to consider making more money per year and play in New York over San Antonio?