VIDEO: Seahawks Wideouts Unveil Awesome End Zone Dance After Long David Moore Touchdown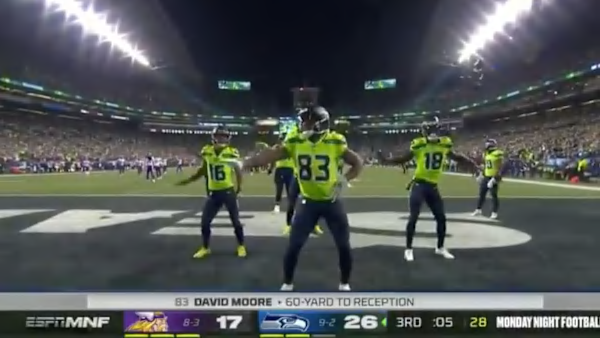 The Minnesota Vikings were pushing the Seattle Seahawks around in the first half, but the third quarter has been ALL Seattle. Russell Wilson floated a perfect touchdown pass deep downfield to David Moore, as the 60-yard score put Seattle up 27-17.
Moore and the Seahawks wideouts pulled off (arguably) the greatest celebration in football history, mimicking the music video for New Edition's "If It Isn't Love."
New Edition! This topped the NSYNC celebration against the Browns.
Rashaad Penny finished off ANOTHER scoring drive, as he took a screen from Wilson 13 yards to the end zone, giving Seattle a 34-13 advantage.
What's prettier? Wilson dropping that sublime deep ball right in Moore's hands?That A++ celebration from Moore and the Seattle wideouts? Penny's sweet moves on the screen? Any way you look at it, Seattle is rolling late on Monday Night.