Seahawks Assistant Brennan Carroll Reportedly a Candidate for Hawaii Head Coaching Job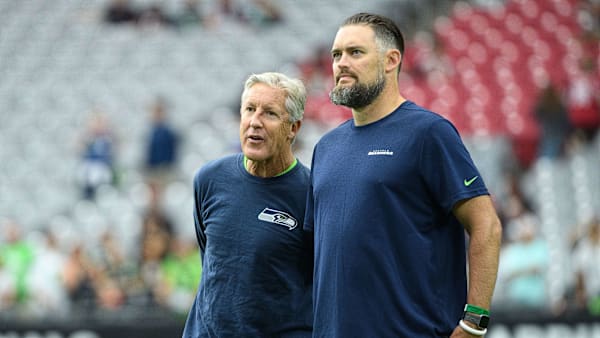 Brennan Carroll, who has been an assistant coach under his father, Pete, for both USC and the Seattle Seahawks, might move on to greener pastures without his dad.
The University of Hawaii is reportedly considering Carroll for their vacant football head coaching position.
Carroll has served under his father for a total of 13 years. From 2002-2009, Carroll was a tight ends coach under his father at USC, and since 2015 he has been the assistant offensive line coach for the Seahawks.
While consistently deferring the publicity to his father, the 40-year-old Carroll has plenty of experience in his own right.
Besides that, Carroll was a wide receiver coach, tight ends coach, and recruiting coordinator at Miami. After Nick Rolovich left Hawaii to become the new Washington State head coach, Hawaii has been seriously considering Carroll for the job.
While Carroll's departure isn't for sure yet, a first-time head coaching position is hard to turn down.
The Rainbow Warriors went 10-5 last season, and Rolovich left the program in good shape at the time of his departure. Should Carroll take them up on their offer, he'd be in a prime position to succeed in year one.