Rumored Details on Tua Tagovailoa's Hip Injury Are Scary and Potentially Career Threatening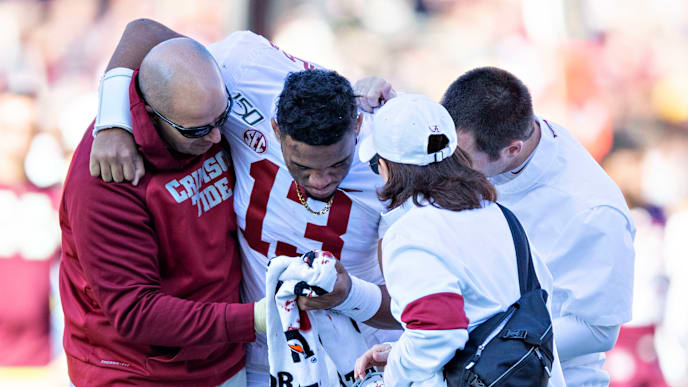 Tua Tagovailoa's initial injury prognosis just went from bad to worse.
The Hawaiian-born national champion quarterback was taken to the hospital during Alabama's win over Mississippi after being removed from Davis-Wade Stadium via a cart. While Nick Saban himself already stated Tagovailoa's ailment was a serious one, we're just now learning exactly how sad this tale could turn out to be.
While this looks grim from the outset, the difference between Bo Jackson's injury and Tua's is the progress of medical technology. Jackson didn't receive the surgery he needed until far too late in his career, while Tagovailoa, if necessary, can get the proper help right away.
The situation remains a scary one, however. At least for now.
Considering the doctors a juggernaut program like Alabama has at its disposal, we hope Tagovailoa gets the medical help he needs immediately. Whether he'll be able to play football again anytime soon, however, remains to be seen.
Tua's injury highlights the decision by several high-profile amateur athletes over the last few seasons to sit out games in the schedule to prepare for the professional ranks. No matter what happens with his hip in the weeks to come, the recriminations will be intense. Nick Saban will assuredly earn significant criticism for playing his star QB as long as he did.
In the meantime, all we can do is wish Tua the best.