Sam Presti Publishes Op-Ed Making Excuses for Thunder Losing 3 NBA MVPs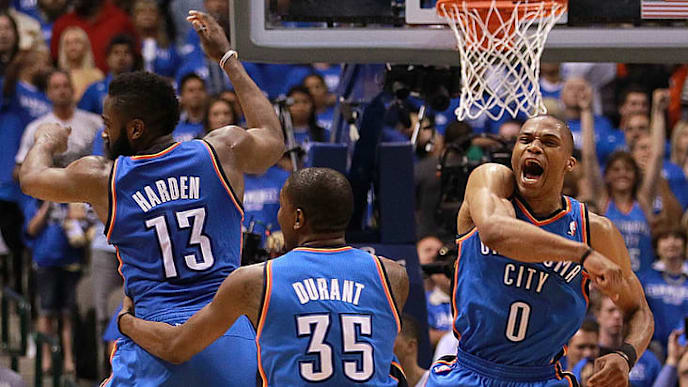 It's genuinely difficult to fathom that the Oklahoma City Thunder's roster once featured the likes of Kevin Durant, James Harden, and Russell Westbrook. We hate to admit it, but that core of present-and-future superstars was never truly meant to last.
The Beard was the first domino to fall. Then the Slim Reaper. And finally, just a few short weeks ago, Brodie was traded after Paul George's shocking offloading to the Clippers, placing general manager Sam Presti and the Thunder at the precipice of a full-blown rebuild-- one that would be the organization's first since relocating from Seattle in 2008.
In response to the sudden change of heart, Presti recently wrote an article in The Oklahoman that addressed the future of the franchise and the difficulty of holding onto superstars in a small market like OKC.
"The next great Thunder team is out there somewhere, but it will take time to seize and discipline to ultimately sustain," wrote the GM. "Despite our city's rapid rise and growth, Oklahoma City remains the second-smallest market in the NBA. While this brings many benefits, it also poses strategic challenges. Given the way the league's system is designed, small market teams operate with significant disadvantages...It simply means we must be thinking differently, optimistically, finding our advantages by other means," he continued.
Don't let Presti's wise words fool you. He's making excuses for failing to hold onto KD, Harden, and Russ -- who all have a league MVP award to their names -- and even finding himself forced to move Paul George.
He prioritized Westbrook's loyalty over Durant and Harden's style of play, which undoubtedly turned out to be a mistake. Really, it's why the Thunder are in this position. Durant is a two-time Finals MVP and Harden came incredibly close to knocking off KD's Warriors in consecutive years; Westbrook, meanwhile, has a clealry defined ceiling in the playoffs when he's the No. 1 option.
None of this is directly because of the small market OKC plays in. Presti is right to go with an optimistic attitude here overall, but his transparent efforts at damage control aren't going to satisfy any skeptics in the Heartland.