Ryan Day Named Big Ten Coach of the Year and is Somehow Ohio State's First Since 1979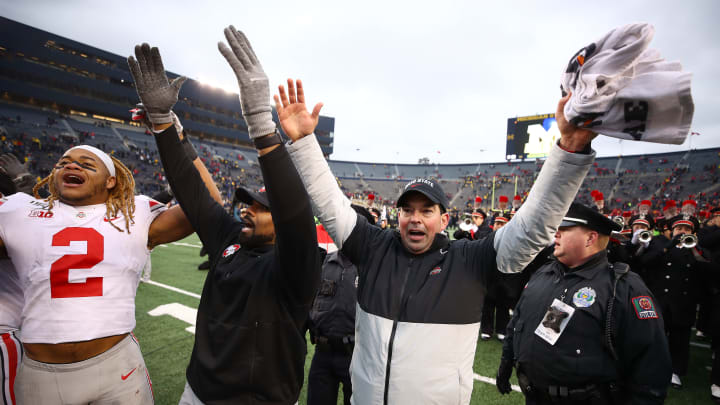 Ohio State's Ryan Day has made history after being named 2019 Big Ten Coach of the Year. / Gregory Shamus/Getty Images
The Ohio State Buckeyes could have sputtered once Urban Meyer, one of the best coaches in the modern history of college football, resigned his post following the 2018 campaign.
Instead, the team has somehow gotten even better under the leadership of Ryan Day. That leadership has earned Day a major honor in his first season in charge: Big Ten Coach of the Year.
Most fans would surely assume that Day is one of a long list of Buckeyes coaches to receive the honor for overseeing a talented team. However, he is actually the first OSU boss since Earle Bruce all the way back in 1979 to be named Big Ten Coach of the Year. Woody Hayes took home the honor back in 1973 and 1975.
And that is it, folks. Urban Meyer never did it. Jim Tressel never did it. And Day beat out some tough competition, too, in the form of Lovie Smith, Paul Chryst and P.J. Fleck.
Day has guided his team to a 12-0 record and his Buckeyes enter as overwhelming favorites in Saturday's Big Ten Championship game against Wisconsin. The first meeting between the two teams was supposed to be a showdown of two of the best teams in college football. Ohio State cruised to a 38-7 victory.
Day was not the biggest name the Buckeyes could have brought in when Meyer left. However, his internal promotion was clearly the right choice -- and promised to continue to be precisely that for years to come.
If he keeps up his current pace, Day can prevent another long drought for Ohio State coaches and the Big Ten Coach of the Year award by filling up his personal trophy case in the process.