Royals Whit Merrifield Responds to Lagging Negotiations Regarding 2020 MLB Season on Twitter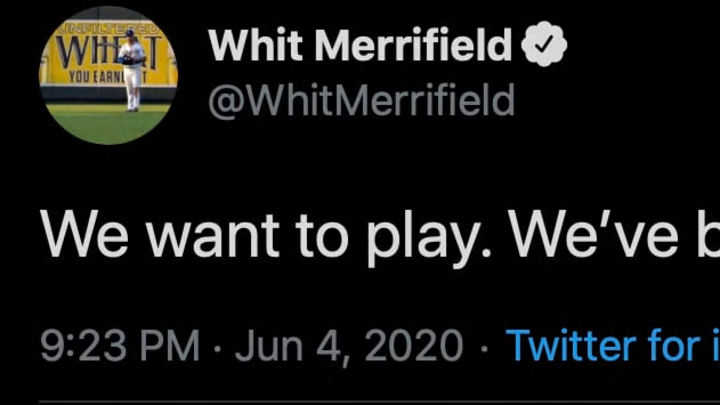 Royals second baseman Whit Merrifield responds to the lack of progress in negotiations between MLB and the players union.
Weeks ago, it appeared that Major League Baseball would start their 2020 season on July 4th weekend. That's not in the cards as of this writing, as negotiations between the league and the MLB Players Association have stalled due to disagreements over revenue and compensation, as well as the length of the season. Fans are understandably frustrated, and so are the players themselves.
On Thursday, Kansas City Royals second baseman Whit Merrifield sent out a tweet to let everyone know that he and his cohorts are more than ready and have the desire to play.
While Merrifield wants to take the field this year, the odds of it actually happening are decreasing by the day. The players want to receive a prorated salary this season, as evidenced by their 114-game proposal to owners. That offer, however, was quickly rejected by ownership, who rebutted with a 50-game proposition that would have seen the players make far, far less.
This battle is soundly unpopular with fans, many of whom have lost their jobs due to the coronavirus pandemic and could sorely use the distraction of the national pastime. Merrifield actually responded to a Twitter user to say that while he understands their frustration, players know the amount of money league owners can still make making during this global outbreak. They're not going to back down until they receive what they deem is fair value for their own work.
The Royals' stud infielder wants to play in 2020, but it's a two-way street, and league owners have shut down that road with no sign of them reopening. At this rate, it's going to take a miracle for baseball to occur this season.