Red Sox Getting Dodgers to Give Them Better Prospects After Begging is an Embarrassing Way to Do Business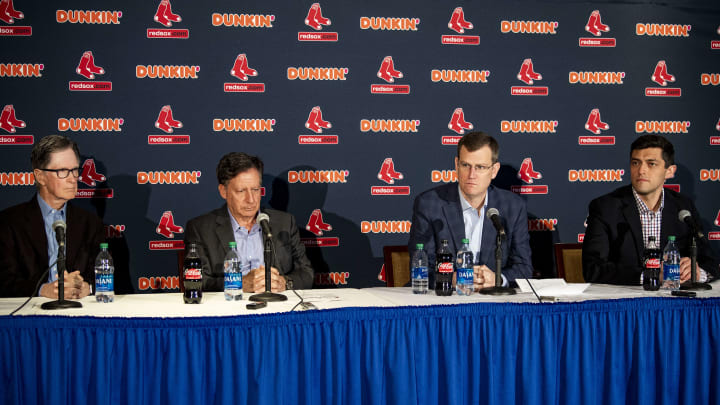 The Red Sox begging to get better prospects in return for Mookie Betts and David Price is a bad look / Billie Weiss/Boston Red Sox/Getty Images
The Boston Red Sox received plenty of flak this offseason. Not only due to their ongoing investigation surrounding sign-stealing, but their contract negotiations with superstar outfielder Mookie Betts.
Lowballing a face of the franchise is never a good look for the front office and ownership, but the Red Sox didn't care. Instead, they flipped Betts and David Price to the Los Angeles Dodgers for Alex Verdugo and Minnesota pitching prospect Brusdar Graterol. Or so we thought.
The Red Sox were dunked on by the media for getting such a small return for a generational outfielder and a starting pitcher. So, what did they do? The team stalled the trade and convinced the Dodgers to give them a better prospect by citing concern over Graterol's injury history. After viewing his medicals, the Red Sox deemed Graterol to be more of a reliever than a starter, which reduced their interest in him.
John Henry took a page out of James Dolan's "Thin-Skin Playbook" and decided to get a different player in place of Graterol due to the negative feedback they received from fans and media pundits. In the process, the Red Sox screwed over the Minnesota Twins and Los Angeles Angels, who were beneficiaries of the original three-team pact.
Now, Boston finagled their way into receiving a top-100 prospect in Jeter Downs and minor-league catcher Connor Wong from the Dodgers.
All it took was for the Red Sox to hold their breath and stomp their feet until they got their wish. They did so, but at the cost of embarrassment and dismay from the rest of the league.
We'd be surprised if the Red Sox were a popular trade partner in the near future.