Red Sox Claiming 'There's a Way' to Keep Mookie Betts and JD Martinez Under New Payroll is Absurd
By Thomas Carannante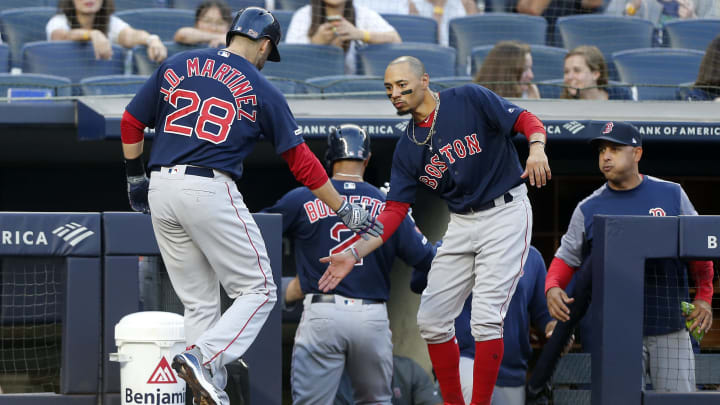 Boston Red Sox v New York Yankees / Jim McIsaac/Getty Images
Please, save everyone the meaningless discussion here.
The Boston Red Sox have endured a significant fall from grace. Less than a year ago they were World Series champions, and now they've done a complete 180 in an attempt to slash payroll and get below the MLB luxury tax threshold. That means some big-name players will be heading out the door.
So, for Red Sox president Sam Kennedy to say it's possible the team can still keep both JD Martinez and Mookie Betts, he might as well be directly insulting our intelligence.
What's that way? To bank on the fact they'll take big pay cuts to stay in Beantown?
The Sox will be having some money come off the books in the form the salaries of Rick Porcello ($21.2 million), Mitch Moreland ($6.5 million), Steve Pearce ($6.5 million) and Brock Holt ($3.58 million), but that simply isn't enough to get them where they want to be. Betts is hitting arbitration and stands to make more than $20 million, while Martinez is likely going to opt out of his current deal and look for more money.
With David Price, Chris Sale, Nathan Eovaldi, Dustin Pedroia, Xander Bogaerts, and (HA!) Rusney Castillo seemingly going nowhere, the Sox have limited options to cut their payroll. Trading Jackie Bradley Jr. could help, but that'll only be somewhere around $10 million. Every significant salary on this roster belongs to a franchise player or someone with an immovable contract.
Oh yeah, and they also want to extend Rafael Devers. Good luck with this, future Red Sox GM.