There's No Way Red Sox Will Sign Mookie Betts After MLB's Decision on Luxury Tax if 2020 Season is Cancelled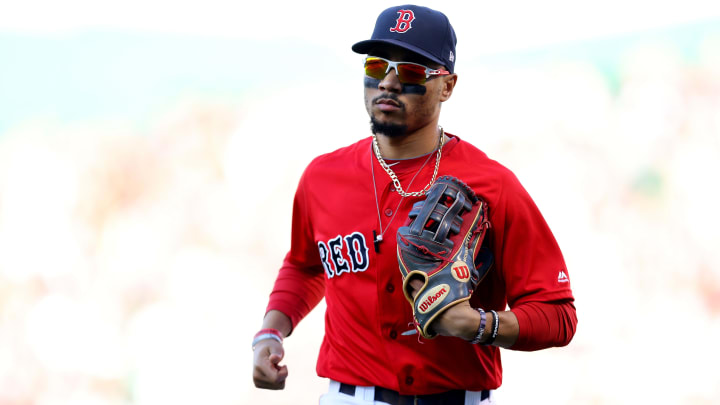 Sorry Red Sox fans, the tea won't re-sign Mookie Betts based on MLB's new luxury tax rule. / Maddie Meyer/Getty Images
The 2020 MLB season is in major flux, as the league and the rest of the world navigates through the coronavirus pandemic with no clear end in sight. While the league cautiously expects the regular season to begin at some point this summer, they are preparing for the worst.
That is, no 2020 campaign at all.
Boston Red Sox fans were giddy at the news, because that would mean the team could re-sign star outfielder Mookie Betts without having to watch him play a single inning in a Los Angeles Dodgers uniform. Slow your roll there, though, ladies and gentleman. We're going to crush that fairy tale right now.
Major League Baseball instituted a new luxury tax rule that states that even if no season is held this year, Boston's competitive balance tax rates won't reset. Additionally, if they spend above the $210 million luxury tax threshold in 2021, they will be penalized as a repeat offender.
With that in mind, Red Sox Nation can forget about a Mookie reunion in free agency.
In case you forgot, Boston exceeded the luxury tax threshold back in 2018, the year in which they won the World Series. They had to pay a nearly $12 million penalty as a result. They also exceeded the threshold last season, which forced the, to pay the league another $13.4 million. So considering Boston is classified as a repeat offender, their next fine will be even greater even if they're technically under the tax line in 2020.
The Red Sox got into this mess after overspending to hoist another Commissioner's Trophy, leading to the team throwing excessive money at Chris Sale. As a result, the team wasn't able to meet the demands of Betts, who is expected to garner a $300 million contract. That, of course, led to Betts' trade to the Dodgers.
Now, with this latest update from Major League Baseball, any hopes of Bett donning a Red Sox uniform again are mere fantasies.
Sorry to break the bad news to you, Red Sox fans. We're just doing our jobs.