Re-Ranking 2004 NFL QB Draft Class After Eli Manning Retirement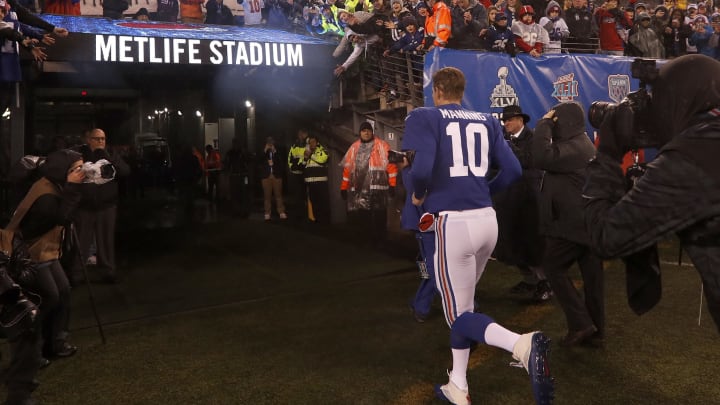 Eli Manning's historic career is coming to an end with the news of his impending retirement. He spent his entire career with the New York Giants after forcing a trade during the 2004 NFL Draft, which featured an historic class for quarterbacks. Looking back on that group, let's re-rank the signal callers selected that year as we come to the end of the Manning era in the NFL.
5.

J.P. Losman
J.P. Losman was taken No. 22 overall and was a huge bust. He spent five seasons with the Buffalo Bills, going 10-23 as a starter and finishing with 33 touchdowns and 34 interceptions over that span. Losman spent time with three other teams and logged a year in the UFL before calling it quits after the 2011 season. His career highlight was a UFL Championship in 2009.
4.

Matt Schaub
Fans may forget legendary backup Matt Schaub is a part of the 2004 class. He was taken No. 90 overall by the Atlanta Falcons and is now back with the team that drafted him. Schaub's best years came in Houston where he was a two-time Pro Bowler and led the league in passing in 2009. He was never a star, but has made nearly $100 million in his long career.
3.

Philip Rivers
Philip Rivers was taken No. 4 overall by the New York Giants, only to be traded to the then-San Diego Chargers. He has proceeded to rank sixth all-time in passing yards with 59,271 and has made eight Pro Bowls. His 397 touchdowns also rank sixth all-time, but Rivers has lacked postseason success. He has never been to a Super Bowl and his legacy takes a hit because of that.
2.

Eli Manning
Manning became a legend in New York with two Super Bowl victories (both over the dominant New England Patriots) in 2007 and 2011. Manning forced a trade to the Giants on draft day and it paid off. He's seventh all-time in passing yards with 57,023 yards is a four-time Pro Bowl selection. He started to regress toward the latter half of his career, but his legacy is defined by his two Super Bowl wins and SB MVP awards.
1.

Ben Roethlisberger
Roethlisberger was taken No. 11 overall by the Pittsburgh Steelers in a franchise-altering decision. He won a Super Bowl in his second season and won another three years later. Big Ben has over 5,000 career postseason passing yards, and while his last Super Bowl win came in 2008, he has remained a consistent star when healthy. His consistency over the last 16 years is why he comes out atop the 2004 class.