Suspended Raiders LB Vontaze Burfict Blasts NFL in NSFW Rant About Myles Garrett Incident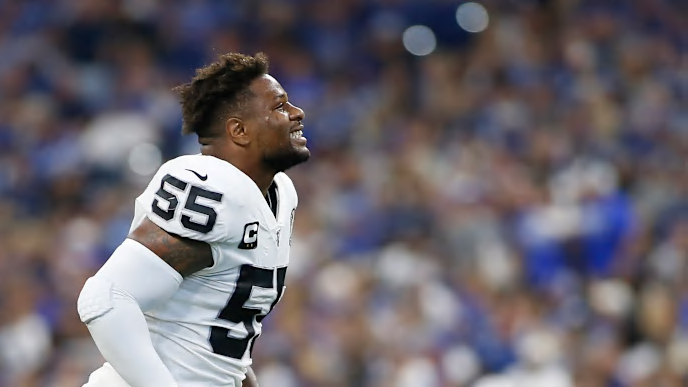 We swear, this is NOT an Onion article!
Oakland Raiders LB Vontaze Burfict was suspended for the rest of the season after a vicious helmet-to-helmet hit against the Colts in Week 4. He was suspended for the final 12 games of the regular season due to his checkered past (and that's being kind). On Friday, he became yet another pundit to comment on Myles Garrett's vicious decision to hit Mason Rudolph in the head with his own helmet.
Burfict called out Garrett for the act, even stating he turned off the television during the fight so his daughters couldn't watch it.
"I don't want them to see that," Burfict said of his daughters in an exclusive interview with The Athletic. "Because that's not what I do. That's not part of football. I hit people on the field during the game. And they say that's dirty, yeah, whatever. I get hit, too, during the games, so don't complain. It's football, bro."
Burfict went on to express the differences between his transgressions and the act committed by Garrett on Thursday night, stating that his violations of the rules were at the very least 'football plays'.
Burfict even went as far as to aim an NSFW tirade square at Roger Goodell and the NFL.
"I met Roger Goodell in New York and he was a total b----," Burfict said. "He was a b----. He didn't let anybody speak, he rushed us in and out of the meeting. The meeting was bulls---. He already had the suspension in his hand."
The former Arizona State product's opinion is a valuable one in this case, as his history of fines and suspensions at the NFL's expense give him a unique perspective. Burfict couldn't believe that Rudolph wasn't suspended for supposedly starting the entire brawl by trying to take Garrett's helmet off.
Burfict ended his interview by confirming his desire to return to the Raiders next season, where he hopes to play a significant role on their defense, if Jon Gruden will have him.