Panthers Totally Dropped the Ball Over Statue of Controversial Former Owner Jerry Richardson
By Michael Luciano | Jun 10, 2020, 3:16 PM EDT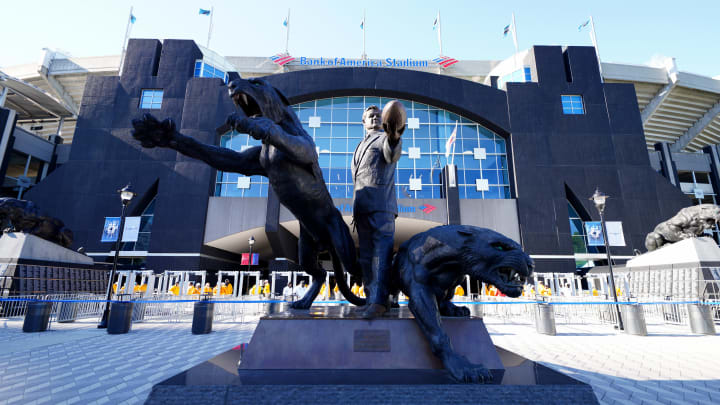 Jerry Richardson helped found the Carolina Panthers in 1995, but his name has become one that has garnered fewer and fewer positive reactions over the last few years, as his reported sexual misconduct towards female Panthers employees ruined his reputation, in addition to alleged racist remarks behind the scenes.
Now, Richardson's statue in front of Bank of America is officially being taken down after years of public outcry. Unfortunately, it's only a temporary relocation -- the Panthers won't go the extra mile and remove the thing for good.
The Panthers released a statement on the statue, saying that the decision was made in the interest of "public safety," citing concern that some might want to deface it or take it down.
Maybe the team should read their statement over again and think about what they're saying here.
Seems pretty spineless for the Panthers to qualify it like this.
Richardson won praise in his time for the Panthers' diversity, as the team was led by an African-American quarterback in Cam Newton, a Hispanic head coach in Ron Rivera, and a female COO in Tina Becker at the height of their success to date. Unfortunately, Richardson's tenure as owner was sullied due to numerous accusations of sexual harassment and inappropriate language in the workplace. One particularly gross incident involved Richardson asking women in the office to "turn around so he could admire their backsides" on Casual Friday.
Richardson eventually sold the Panthers after the 2017 season to Pittsburgh Steelers minority owner David Tepper for $2.2 billion. Richardson was fined $2.75 million for his misconduct.
Hopefully, they have the courage to take additional action and either reduce the statue the two Panthers or replace Richardson with another franchise legend. Steve Smith wouldn't be a bad pick, would he?