Ohio State Now Expecting 50,000 Fans at Buckeyes Gamedays and That Sounds Dangerous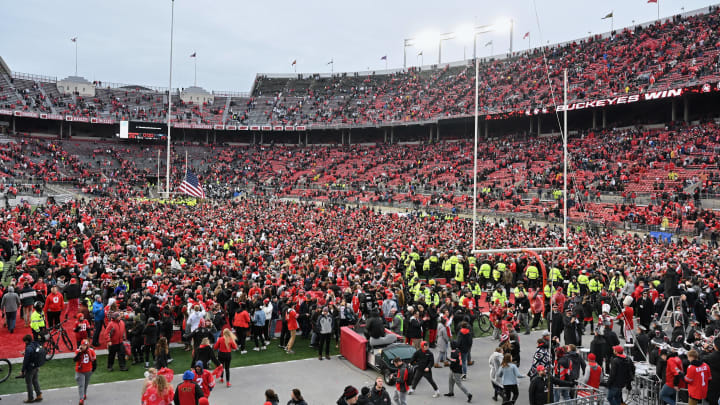 Ohio State University athletic director Gene Smith said Tuesday that the school hopes to have up to 50,000 fans at Ohio Stadium for football games this fall, a sign that school leadership may not fully grasp the realities it will face due to the coronavirus pandemic.
With new coronavirus cases and hospitalizations spiking in many parts of the United States, it looks increasingly likely that fan attendance for NCAA football games will be either highly limited or completely prohibited. Smith, however, has seemingly rejected this reality, according to Ohio State reporter Dan Hope.
While Smith is certainly allowed to be optimistic, his assertion seems unlikely. Massive gatherings like sporting events have the potential to act as mass spreading events for coronavirus, and it appears unlikely that stadiums can be filled until a vaccine or proven therapy is available.
Darren Rovell pointed out the stark dichotomy between Smith's comments and those of Penn State president Eric Barron, suggesting that schools are likely to employ different strategies regarding fan attendance in the fall, especially without a mandate from the NCAA or their respective conferences.
Smith, like Tennessee athletic director Phillip Fulmer, seems ready to allow fans back into Ohio Stadium immediately, but the decision will likely fall to the Big Ten or the NCAA. With the added concern that the virus could infect student-athletes and derail the season, schools would be wise to exercise caution regarding fan attendance.
While a school like Ohio State may be able to withstand the financial burden of a lost football season, other athletic departments could fold under the stress. While a final decision is still likely weeks or months away, Smith's belief that stadiums could hold up to 50,000 fans in the fall is likely misguided.