Official 2019 NFL Tank Meter Brought to You By 12up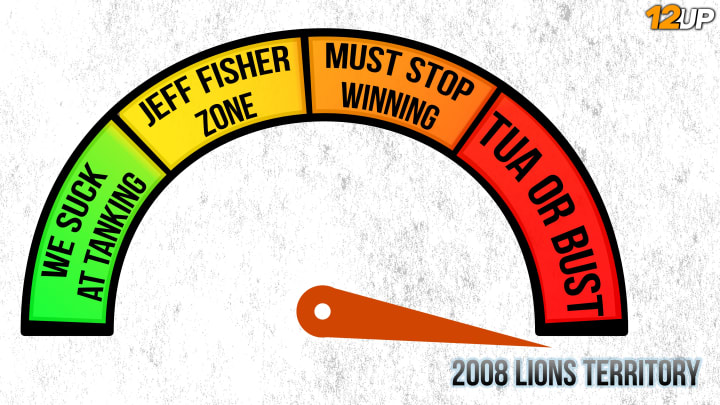 The NFL is a league divided at the moment. You have the surefire contenders, such as the New England Patriots, San Francisco 49ers, Baltimore Ravens and Seattle Seahawks (to name a few), and then you have the basement dwellers. And boy, are there too many bad teams to name off the top of your head.
So we decided to make it a bit easier for everyone and track all the tanking (and pseudo-tanking) teams from this point forward. If you're a fan of one of these teams, you might want to tune in on a weekly basis.
Miami Dolphins
How did this come to be? The Dolphins were hands down the worst team we've ever seen three weeks ago, but they've since ripped off wins against the Jets (standard) and Colts (on the road! What?!) and are now 2-7. A team destined for 0-16 has since completely botched its chances at securing the No. 1 overall pick.
Denver Broncos
Welcome to Denver, where perennial mediocrity is the standard, folks! You can count on John Elway to waste away a great defense for four years running now. Trevor Siemian, Case Keenum, Joe Flacco, and whoever else have kept this team at a steady 23-34 over that span. How do you guys like pretending to be competitive for about a month, pissing it all away and then getting a lower draft pick? Just hire Jeff Fisher already.
New York Jets, Tampa Bay Buccaneers, Atlanta Falcons
Hey guys, care to explain what you're doing? While the Jets had high hopes coming into the year, losing Sam Darnold (and of course, being the Jets) cost them dearly in the early going, which set them back so far there was no point of winning. But wins over the Cowboys and Giants are pushing them further away from a top draft pick. As for the Bucs, why even try? This team is so far off from being legitimate it's painfully obvious. Jameis Winston isn't the answer. Somehow pulling off a win against the Cardinals after trying to lose the game 15 separate times is hilarious. The 20-point underdog Falcons marched into New Orleans and took down the Saints this week too. Guys, this needs to stop!
New York Giants, Washington Redskins
The cream of the crop of the NFC East, right? For once, the Redskins are doing something right: losing at an alarming rate. While they might not go for Tua Tagovailoa if they get the top pick considering we've yet to truly see what Dwayne Haskins can do, they'll remain in contention for a top-two pick, which will help them in some other way. The Giants? This is the worst defense we've ever seen. As long as they keep giving up 35 points a game, Danny Dimes and the swiss cheese offensive line won't be able to match that at all. These two squads face off one more time this year and the G-Men also play the Dolphins, so there's sure to be a shakeup here in the coming weeks.
Cincinnati Bengals
Remember when this team almost beat the Seahawks in Seattle in Week 1? Now, they can't even sniff being within 20 points of their opponent for a majority of the game. Andy Dalton's been benched. AJ Green hasn't played in a game. John Ross is on IR. Rookie Jonah Williams has yet to see a snap. They just cut Preston Brown after signing him to a $16.5 million deal less than a year ago. Fire this team into the sun. They do, however, have remaining games against the Jets and Dolphins, so things could get a little wild. They'll have their pick of the litter at No. 1. They can go with Tua, Chase Young, or completely screw it up. These are your 2019 Bengals. 0-16 is possible.