Noah Syndergaard Torches Mets Beat Writer Anthony DiComo for Behavior After Marathon Loss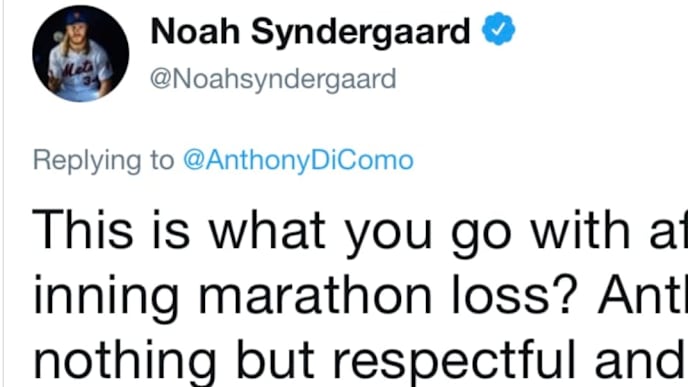 Thursday night, the New York Mets suffered a brutal loss after a 16-inning marathon game with the San Francisco Giants. After the loss, Mets' starter Noah Syndergaard didn't answer any questions with the media and instead quietly left the clubhouse; after all, he'd departed the game several hours prior.
Well, Mets beat writer Anthony DiComo took to Twitter to highlight Syndergaard's quick exit. Thor obviously wasn't happy to see this, and directly replied to DiComo to address the unprofessional manner of his tweet.
Syndergaard went seven innings in the marathon, allowing just six hits and one earned run. It makes sense that he didn't want to answer questions after the deflating loss, which he wasn't really involved in, anyway.
Also, instead of replying with an anger-infused tweet, Syndergaard gave a very professional response. Who can really blame him for seeing an issue with DiComo's tweet after such a hard-fought losing effort?
Clearly it's not wise to cross Thor, especially after an unreal pitching effort that resulted in a loss. Anthony DiComo learned that the hard way.
Cheers to Noah Syndergaard, who expected more from an old colleague and friend. Just talk it out next time.