NFL's Plan to Fill Seats With Advertisements in 2020 and Eliminate Lambeau Leaps is Perfectly on Brand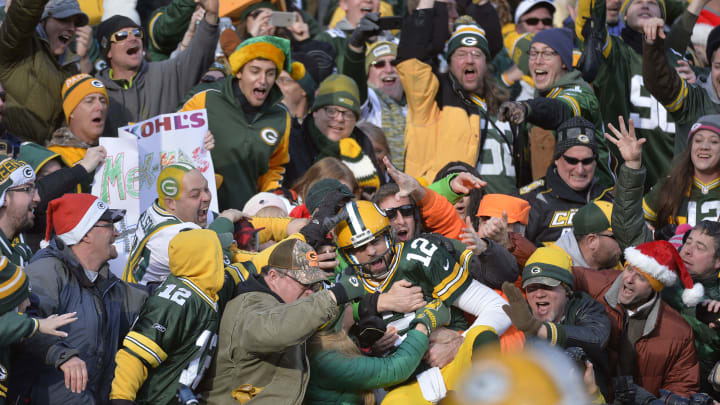 The NFL unveiled its plan to distance fans from players on Wednesday, announcing that the first six-to-eight rows of stadium seating will be covered with tarps, which teams can sell as advertising space, per CBS Sports. The move is intended to both protect the health of fans and players, as well as recoup some of the financial losses that the league could experience if fan attendance is in any way limited.
Fans should not be surprised to see the league monetizing this opportunity, as the NFL and its teams have historically taken advantage of financial opportunities like these. Extensive advertising space is already sold throughout stadiums, and this will likely be no different.
The NFL is wise to take advantage of this revenue opportunity, especially as uncertainty abounds regarding the 2020 season. With coronavirus cases spiking in plenty of states across the country, it appears increasingly unlikely that stadiums will be at full capacity in the fall, and the threat of completely empty stands still looms.
Additional stadium advertising will likely have a minimal effect on fans watching at home, but the in-person experience between fans and players will be dramatically altered. Players will be unable to leap into crowds or celebrate with fans, and, as Packers writer Zach Kruse points out, one of the league's most iconic touchdown celebrations will be nonexistent in 2020.
While selling this ad space will ultimately make the in-person experience more impersonal for fans and players alike, it is ultimately a prudent move on the NFL's part. Regardless of whether or not fans are permitted to attend games in 2020, the league has shown that it has a plan to mitigate financial losses.
Although some may argue that this measure is largely self-serving, the league has found a way to open new revenue streams in the midst of a difficult situation, and should be commended for its foresight.