Most Valuable Trade Asset on Every Contending National League Team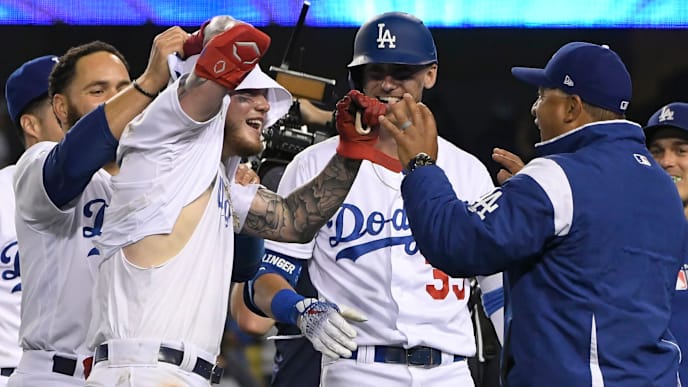 While the American League might be the more top-heavy league this season, the National League is stuffed with contenders, as at least six or seven teams this year have legitimate shots at the pennant. To do that, however, they will need to figure out which of their promising young prospects and aging veterans can be discarded in order to bring in a star to aid them in their pursuit of a ring.
7.

Philadelphia Phillies: OF Adam Haseley
Adam Haseley has been on the IL since a two-game stint with the Phillies saw him go 1-7 at the plate. A former No. 6 overall pick from Virginia, Haseley is a top-shelf contact hitter with great bat control. His game is the kind that translates very well to the MLB level, which could make him a very attractive trade chip considering a crowded Phillies outfield.
6.

Colorado Rockies: 3B Colton Welker
Third base in the Mile High City is currently occupied by this Nolan Arenado guy, who I hear is pretty good. That leaves Colton Welker without a clear path to the bigs. Still, with 27 extra-base hits and 41 RBIs for the Rockies' Double-A team in Hartford, Welker is likely to garner tons of interest as a potential trade piece.
5.

St. Louis Cardinals: OF Dylan Carlson
The switch-hitting Dylan Carlson, who has experience at all three outfield spots, should be up to the majors in no time at all given his production for Double-A Springfield. 31 extra-base hits and 11 steals in 69 games while providing plus defense is exactly the type of player that could bring a star-level veteran to St. Louis.
4.

Chicago Cubs: LHP Adbert Alzolay
Adbert Alzolay made his big league debut this weekend against the New York Mets, firing four innings of one-run ball. That performance was indicative of the type of player a potential seller could get in Alzolay, as his mid-90s fastball and 12-6 curveball that falls off the table gives him plenty of potential, be it as a Cub or elsewhere.
3.

Milwaukee Brewers: INF Travis Shaw
Travis Shaw finds himself as the odd man out in the Brewers' infield crunch, as Mike Moustakas, Eric Thames, and Jesus Aguilar aren't conceding at-bats to someone batting under the Mendoza Line. While 2019 has pretty much been a wash for Shaw, the 29-year old could look to restart his career elsewhere as Milwaukee flips him for pitching.
2.

Atlanta Braves: RHP Ian Anderson
Ian Anderson, picked third overall in the 2016 draft, has continued to impress with his four-pitch mix headlined by a 95 mph fastball down in the minor leagues. Anderson currently has a 3.20 ERA for the Braves' Double-A team in Mississippi. Atlanta needs to improve their pitching staff right now, and shouldn't hesitate to include Anderson in a trade for bullpen help or even another starter depending on how Dallas Keuchel performs.
1.

Los Angeles Dodgers: SS Gavin Lux
The Dodgers' middle infield is as solid as they come right now, with Justin Turner and Corey Seager making it difficult to find a path to the bigs for Gavin Lux, who is currently hitting .310 with 13 home runs for the Dodgers' Triple-A affiliate in Tulsa. Lux is as pro-ready as a shortstop will get at this point in his career, and could make his way to the majors by 2020 if the Dodgers decide to trade him.