MMA Legend Gina Carano Calls Out Instagram for Censoring Her Nude Photo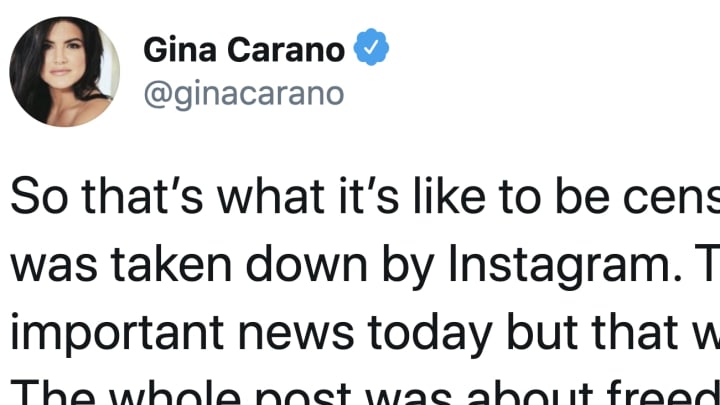 Former MMA star and actress Gina Carano gave her fans a bit of a treat on Instagram by way of a semi-nude photo that showed off her toned physique. Unfortunately, Instagram wasn't as impressed, and they responded by axing her photo off of the site.
Carano has responded to Instagram taking her...revealing picture down, claiming that the post should have stayed up under "freedom of expression" before asserting she didn't violate any of Instagram's rules.
Some fans of Carano on Twitter managed to save the picture before Instagram came down on it.
Carano was, at one point, one of MMA's brightest rising stars after winning her first seven fights. That hype train was derailed when Cris Cyborg pummeled her to take the StrikeForce featherweight championship.
Carano has since made the transition to modeling and acting, starring in movies like Deadpool and and Fast and Furious 6 while picking up in a recurring role on Disney+'s smash hit "The Mandalorian."
Much to the chagrin of her surprisingly rabid fanbase, Instagram must have deemed Carano's account a little too X-rated.