Christian Yelich Posts 1st Tweet Since Season-Ending Knee Injury to Thank Brewers Fans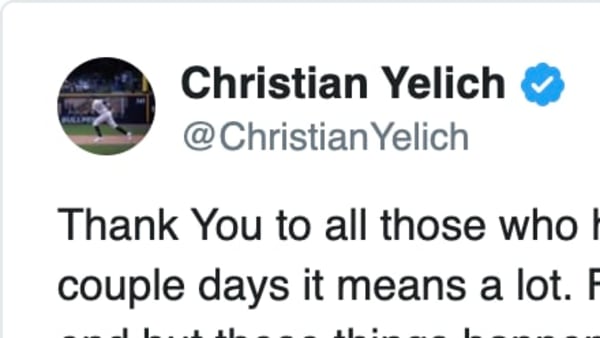 Just a couple days after Christian Yelich suffered a heartbreaking knee injury, he was finally able to get on Twitter and reach out to the fans.
The injury was not only crippling for the Brewers, but for those all across the game who enjoy high-quality baseball.
Yelich was battling hard for the NL MVP with Cody Bellinger of the Dodgers, and was putting together a second straight incredible season to defend his crown. And he kept it short and sweet in checking in with his fans after getting a relatively positive diagnosis, all things considered.
Against the odds, the Brewers are tied for the second Wild Card spot with the Cubs and have won six in a row. No matter how hot a team is, losing a player of Yelich's caliber creates an impossible-to-fill hole.
Yelich was hitting .329 with 44 home runs and 97 RBI on the season. His unbelievable 1.100 OPS was on pace with some of the numbers put up during the steroid era.
The season-ending injury has inspired the Brewers to #WinForYeli and keep their playoff hopes alive. Ryan Braun even wore Yelich's jersey under his No. 8 during Wednesday's game and ended up hitting a home run.
Hopefully, whatever magic Yelich had all year can rub off on Braun and the rest of the Brewers.