Miles Bridges Hilariously Owns Himself Over NBA All-Rookie Teams and Possible 'Snub'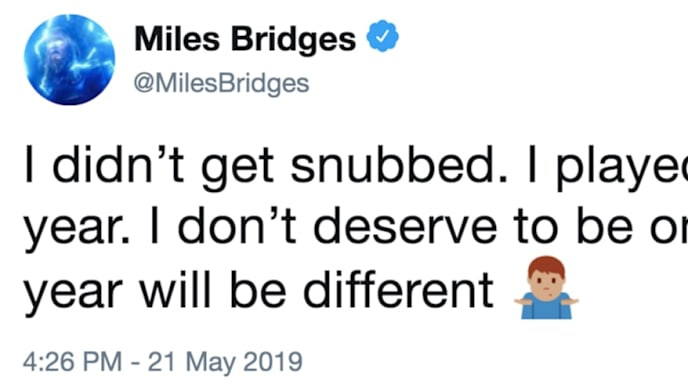 Former Michigan State star and current Charlotte Hornet Miles Bridges seems a tad ticked off after what he considers a subpar season.
But he's only mad at himself.
In the eyes of many, Bridges was snubbed from the NBA's All-Rookie team after a roller-coaster rookie season. 7.5 points and 4.0 rebounds for a player who was considered raw coming out of school is nothing to be ashamed of, but Bridges is thinking bigger than just "OK".
Maybe you're just a tad hard on yourself, Miles?
When you have a first time head coach in James Borrego, you lack tons of great shooters and size inside, and you were raw to begin with, a season like that was bound to happen.
If there was a small silver lining, it was that Bridges established himself as a nice piece for the future in Charlotte, as his rim-shaking dunks and versatility will play in virtually any offense on any team.
If we get a motivated, hungry Bridges in Charlotte, the sky is the limit for what he can do in Borrego's system.