Former MLB Reliever Remembers His Own Amazing Quote After Giving up Long Home Run to Barry Bonds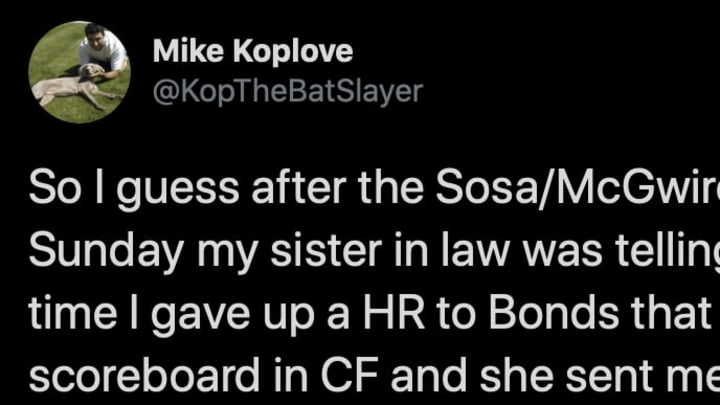 Former MLB reliever Mike Koplove remembered an amazing quote he gave during his career. /
There was not much opposing pitchers could do against Barry Bonds during the San Francisco Giants legend's heyday. The option was either to intentionally walk him or throw strikes and close your eyes while praying the ball didn't leave the yard with one wicked swing.
Mike Koplove, a former MLB reliever, had some misfortune against Bonds in the past as a member of the division rival Diamondbacks. He allowed an absolute moonshot to Bonds in September 2014, and after that particular game, he gave fans an all-time quote to explain what happened.
This is gold. Bonds being just "a little too close to the JumboTron" is a fair complaint for pitchers in light of the monster blasts he hit during his legendary career. Koplove challenging Bonds while behind in the count was the key mistake, so much so that he recalls it almost 16 full years later.
Koplove was known for his sidearm delivery, but Bonds proved that the different angle was no problem; a man doesn't hit 762 home runs unless they are capable of launching just about any pitch. Koplove was one of many hurlers who gave up a bomb to Bonds over the years, but he now goes down in history for having a special sense of humor about the whole situation.