NBA Players Are Destroying Michael Porter Jr. for His Response to George Floyd's Death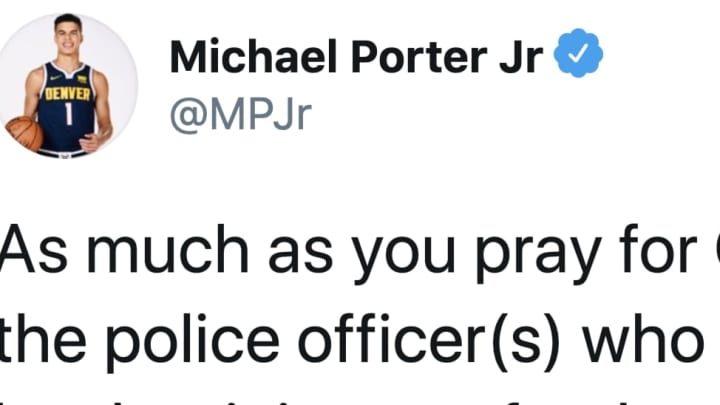 Michael Porter Jr. had a tone deaf response to the George Floyd killing. /
Minneapolis police officer Derek Chauvin's killing of George Floyd seemed to be a pretty unambiguously horrible scenario. The fact that Michael Porter Jr. is trying to make people empathize for the officers is extraordinary.
The Denver Nuggets rookie instructed his followers to pray for the officers as well as the George family, hoping that God "changes their hearts."
This is the absolute worst time to get on your soapbox, Michael. Read the room.
His fellow NBA players, including Los Angeles Clippers guard Lou Williams, did not take kindly to Porter's olive branch extension.
Philadelphia 76ers forward Mike Scott is certainly not willing to keep the officers involved in his thoughts after they were caught on video suffocating an innocent man.
New York Knicks forward Moe Harkless pleaded for the Nuggets veterans to talk with Porter and set the rookie straight.
Longtime NBA veteran Stephen Jackson, a very close friend of Floyd, also lashed out at Porter, telling him to "pick a side."
There's a time and a place for thoughts and prayers, but Porter's comment comes off as sympathetic to officers who used their force immorally and in a way that would get any other citizen jailed. We can probably expect a PR statement from Porter's camp in the coming hours.