Lakers Trading Brandon Ingram Instead of Kyle Kuzma in Anthony Davis Deal Was Very Clearly a Mistake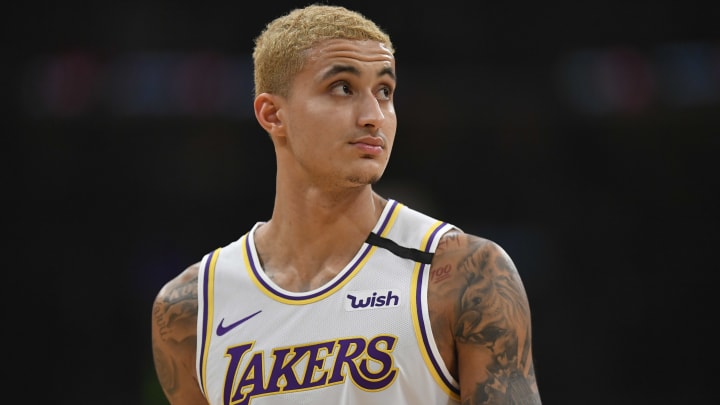 The ancillary stories surrounding the Los Angeles Lakers' rise to prominence, like the goofy Alex Caruso emerging as a legitimate NBA player, and Dwight Howard entering the dunk contest are nice to hear. Unfortunately, these sideshows at the margins remove focus a bit from the tale of a player who was in LeBron's good graces last season and now, well, isn't.
Kyle Kuzma is reportedly being shopped, as the Lakers look to add a more consistent scoring guard or two-way wing to their rotation. Sacramento has put themselves at the forefront of these trade rumors, wanting to cash in on soon-to-be free agent Bogdan Bogdanović as he looks less likely to sign with the Kings in the offseason. The call on this trade, though, was apparently coming from inside the house.
Although a talented spark plug, Kuzma struggles to find consistency in any part of his game. He doesn't complement LeBron and Anthony Davis particularly well because of his average three-point shooting, nor is he adequately creative on the ball, unable to become the main option off the bench when King James and AD are off the court in tandem.
Who might've fit better? Well, we know one option who was in the building last year.
Brandon Ingram is becoming the All-Star level talent he promised to be coming out of Duke. He continues to progress as a point-forward, but his impressive development is in his ability to create scoring opportunities on his own, as well as his growth as a 3-point shooter.
Ingram was a below-average to awful 3-point threat last season, only capitalizing on 33% of his attempts. However, that percentage has surged to almost 41% this season, with a higher usage rate and more attempts.
The Davis trade would've been a tough sell without Ingram in the picture, but the Lakers traded a future max contract player who would raise the ceiling of this squad while keeping the inconsistent, solid Kyle Kuzma. At the very least, we wish the Lakers would've sold higher on the player they're now stuck peddling at a discount rate.