Kyle Long Apologizes for 'Unacceptable' Practice Fight With Bears Rookie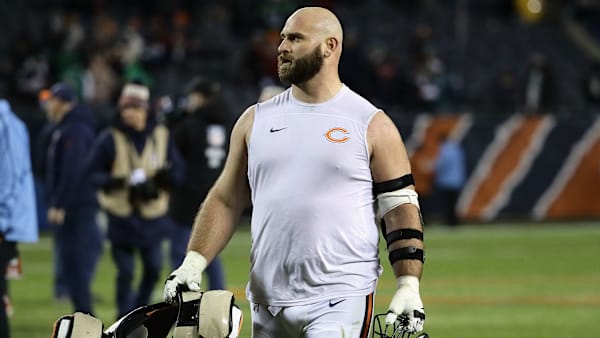 Chicago Bears offensive guard Kyle Long made news waves after fighting with undrafted rookie Jalen Dalton in practice last Wednesday. During the exchange, Long took off the rookie's helmet, and proceeded to hit him with it and later throw it down the practice field.
He then proceeded to vomit on the sideline before being kicked out of practice and subsequently suspended from the team's preseason game against the Giants.
Long spoke for the first time since the incident, calling it "unacceptable," and expressed regret that things escalated to the heights that it did.
"A momentary lapse of judgement," Long said, via Colleen Kane of the Chicago Tribune. "I cost myself a lot of personal equity. People don't like to see stuff like that. It does not feel good to be the one that's responsible for it. I'm trying to take ownership of it and move forward, and all I can do today is show up and be the man that I know that I am and stack those days together."
Nagy acknowledged that Long did apologize to him and the entire team, but it's time to move on.
"We're past it," Nagy said, via the Chicago Tribune. "Now it's not about talking anymore. … It's showing by your actions, whether that's being a good football player or being a good person. I always tell my kids, 'Don't talk about it. Be about it.' So it's time to start being about it."
Tempers get the best of athletes, especially those that are extremely competitive. While Kyle Long's fight was the talk of social media last week, he and the Chicago Bears are ready to move on and focus on a season filled with heavy expectations.