Kirk Herbstreit Begs OSU AD to Help Bring Back Classic Video Game Due to Potential NCAA Rule Change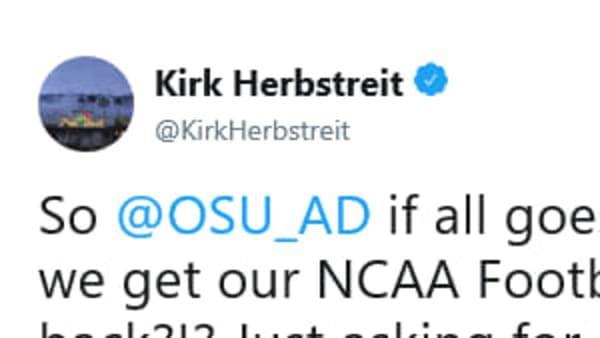 If you ask anyone who grew up in the late 1990's and early 2000's about their favorite video games, the main title that is brought up is the former "NCAA Football" series. However, the series has been out of production for a good decade, but that could potentially change.
Gene Smith, Ohio State athletic director, is examining whether student athletes should receive benefits for the use of their name and likeness. That's when current ESPN personality Kirk Herbstreit jumped in to ask Smith if that means the college football video game will be making it's return.
There has been a long battle for collegiate athletes to receive benefits while risking their bodies to potentially make a name for themselves in the pros. The NCAA makes an exorbitant amount of money off March Madness and the College Football Playoff, but none of the profits go to the players themselves.
That was the main reason why a new edition "NCAA Football" series was never made, due to the controversy of athlete benefits.
If Smith's plan comes to fruition, that means we are that much closer to "NCAA Football" to hit our video game consoles soon. And he'd be a hero to many if he's successful.