Kate Upton Calls Out 'Misogynist' Comments After Defending Trea Turner Call in World Series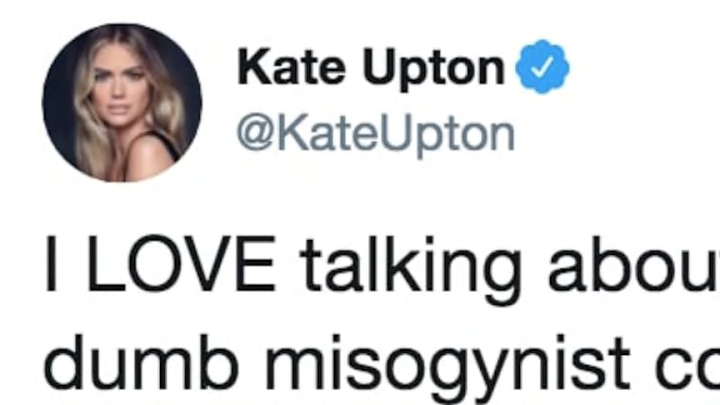 Like many of us, supermodel Kate Upton was left confused after a lengthy "review" process after Trea Turner of the Nats was ruled out for interfering with Brad Peacock's throw to Yuli Gurriel over at first in Game 6.
Unlike every armchair umpire on Twitter, Upton actually got the call correct, however, as Turner was ruled to have left the base path, and she let everyone know how simple a call this was while the umps were still wearing their headsets.
Upton, who is married to Houston Astros starter Justin Verlander, was swarmed with an avalanche of misogynist Joe Randoms on Twitter who tore into Upton's perceived lack of baseball knowledge. Bear in mind, Upton was agreeing with the call on the field, meaning she shared a viewpoint with all the people who were actually in charge.
After a few hours (and after her Astros had officially registered the L), Upton had finally had enough of the wave of criticism, and lashed out at her critics on Twitter.
If you had 4,000 people telling you that you were dumb despite actually nailing the call in the correct manner, you'd probably do the same.
Upton may not be taking the conventionally held angle on this play, but she actually ending up being right, unlike the hundreds of dude with 15 Twitter followers that took time out of their "extremely busy" nights to go after a supermodel on Twitter.
Hope she sees this, dude.