Karl-Anthony Towns Was Asked by Random Guy to Join a Basketball League Because He's Tall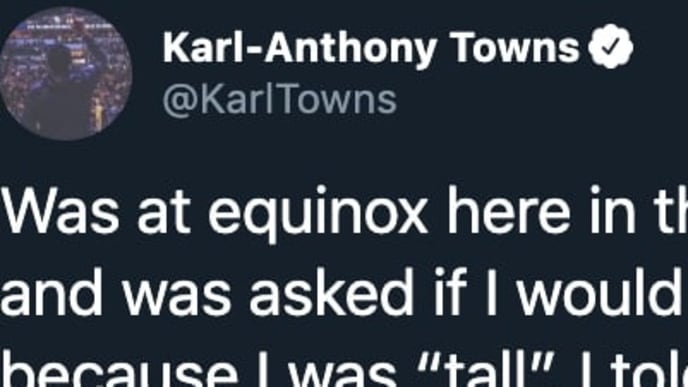 It's not everyday that you run into a professional basketball player at your local gym, and it's certainly not everyday that you muster up the courage to ask him to join a basketball league, despite not recognizing himl.
Karl-Anthony Towns detailed a story via Twitter on Wednesday in which a random gym member pleaded him to register for a particular league -- not because he's a world-beating big man -- but because he is "tall."
We can't completely slight the individual's scouting prowess, however, as he did mention that he thought Towns played ball in high school. That's gotta count for something, right?
Isn't it funny how things work out? Towns just so happens to stand 7-feet tall and tried basketball in high school. It turns out he was quite good at it too, as he received a scholarship from Kentucky before becoming the No.1 overall pick in the NBA Draft back in 2015.
The Minnesota Timberwolves stud is even a two-time All-Star who has averaged 22.3 points and 11.9 rebounds while shooting 53.7% from the floor, including 39.2% from 3 in his career.
This guy not only spotted a basketball superstar, but proceeded to hold a conversation without realizing he was in the presence of an elite NBA talent.
Whoever you are, please consume more NBA content so that you don't run into this predicament again. We promise it'll be worth it.
As for Towns, he should probably consider putting more effort into expanding and marketing his brand. He can't be feeling great about himself knowing that a common fan didn't even think to ponder that he's a household name in the Association.