Writer Claims Insider Info on Yankees' Alleged 2017 Sign-Stealing and the Supposed Details Are Juicy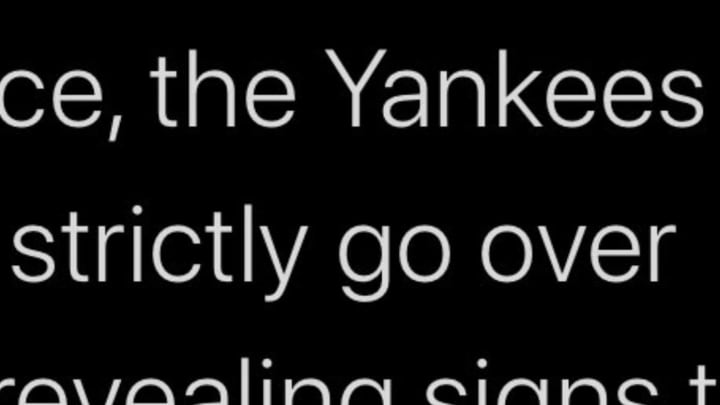 The Sporting News' Joe Rivera claims to have heard confidential details of the New York Yankees' alleged 2017 sign-stealing /
The baseball world awoke to a proper brouhaha Saturday after a report from Evan Drellich in The Athletic suggested that a court judge had ordered the unsealing of a 2017 letter understood to contain evidence that the Yankees stole opponents' signs that season, and that Major League Baseball kept it quiet. The story was especially prescient given that the Bronx Bombers were one of the chief victims of the world champion Astros in '17 who were later found to have cheated significantly.
We don't know exactly what's in this letter, nor do we know what the Yankees did or didn't do. But one baseball writer. Joe Rivera of The Sporting News, now says he heard last year from a source that the 2017 Yankees used outfield cameras to read pitching signs straight from opposing catchers.
Well, that would be a no-no. Remember, the Astros were specifically taken to task for using electronic devices as part of their cheating system.
That sounds like a protracted process. You can't do all of this in the span of a single at-bat, right? It would seem to be impossible.
Either way, Rivera's source suggests an intricate process.
Ah, yes, the caveat! That's why we're not prepared to call this a "report."
But still, it's juicy.
That's perhaps the biggest takeaway here -- that singling out any MLB team on an individual basis for stealing signs, even with the assistance of technology, misses the point. I was clearly a widespread trend inside the league, at least up until 2017.
That doesn't make these purported, unverified details any less of a bombshell if they turn out to be true, of course.