Jeff Bezos and Amazon Win Naming Rights to Seattle's NHL Arena and They're Giving it a Wild Name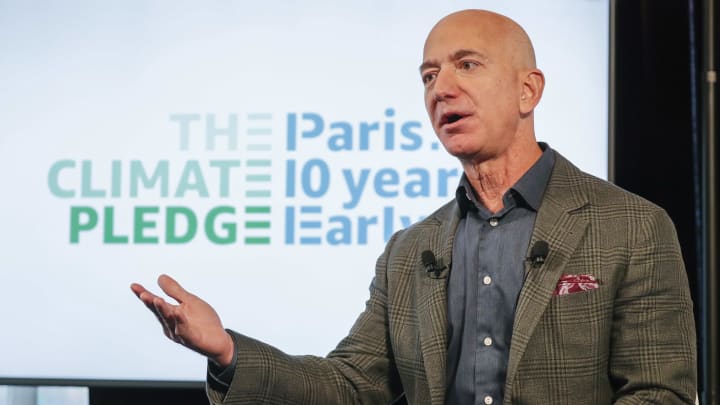 Jeff Bezos chose an unexpected name for Seattle's arena. / Paul Morigi/Getty Images
Amazon CEO Jeff Bezos has unlimited money, so no one was shocked when he decided to buy the rights to Seattle's NHL Arena. However, some may be surprised by the name he has chosen for the arena, which is...not Amazon, and is, in fact, just a random phrase.
Instead of Amazon Arena, he has named it Climate Pledge Arena. In an Instagram post, Bezos reveals he chose the name "as a regular reminder of the urgent need for climate action."
Bezos went on to announce that the stadium "will be the first net zero carbon certified arena in the world, generate zero waste from operations and events." Pretty exciting stuff from one of the world's biggest innovators. Bezos also revealed that the arena will use a reclaimed rainwater ice system.
It's a great step for the Seattle franchise and the NHL as a whole to be on the forefront of raising awareness for climate change. It's even more important that the arena itself is as green as possible, which is clearly Bezos' biggest goal.
We still don't know much about the Seattle franchise, including its name. The two most likely names seem to be the Kraken and the Sockeyes. A report came out earlier this year that claimed the franchise had settled on "The Kraken," but it hasn't been confirmed.
What has been confirmed, though, is the fact that Jeff Bezos chose probably the 30th-smoothest possible climate-influenced name for the arena.
The team is scheduled to join the NHL in 2021. They will look to replicate the success that the Vegas Golden Knights saw in their debut season -- that squad made it all the way to the Stanley Cup Finals.