Jalen Hurts Just Cemented One of Best Careers in College Football History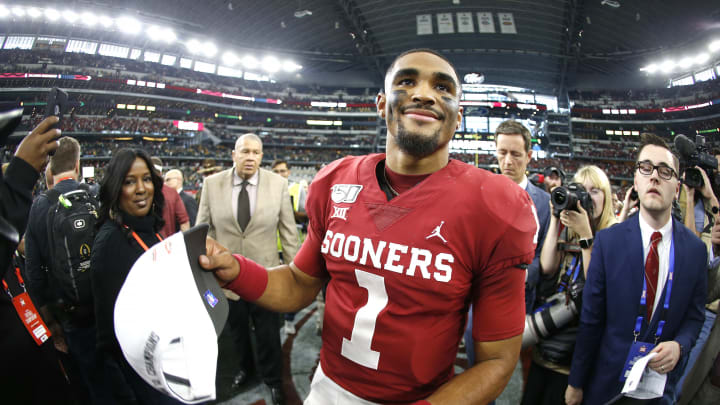 Jalen Hurts has reached incredible heights over the course of an unlikely college football journey. / Ron Jenkins/Getty Images
Oh, Jalen Hurts, how we will miss you when you leave us. One of the mainstays of college football for the past four seasons, Hurts has a chance to make history in short order as the first quarterback to participate in four consecutive College Football Playoffs.
One of the best comeback stories we have ever seen, Hurts re-emerged this past season with Oklahoma following a transfer from Alabama, delivering his best season yet under the tutelage of offensive guru, Lincoln Riley. All told, his collegiate run is one for the books.
Hurts' illustrious tenure began in 2016, when he was the starting QB for the Alabama Crimson Tide squad that was defeated by the Clemson Tigers for the national title. The following season, Hurts was famously benched for Tua Tagovailoa during that very same championship game, a move that ultimately led to the Tide emerging with a dramatic victory. Last season, Hurts stepped in for an injured Tagovailoa in the SEC Championship, backing him up in the two playoff games that followed.
Assuming the Oklahoma breaks into this year's playoff, Hurts will likely complete his sweep of playoff appearances.
And Tua will be watching from the couch.
It would be quite the story if Hurts manages to lead the Sooners to a championship in his lone season with the team, as this would be a feat that neither of his predecessors -- back-to-back No. 1 overall draft picks and Heisman winners Kyler Murray and Baker Mayfield -- were able to accomplish.
While he wasn't always a superstar, Hurts has always been a rock-solid QB, and he will forever go down as one of the most successful in college football history.