Hilarious Story of Childhood Eli and Peyton Manning Perfectly Reflects Their Current Selves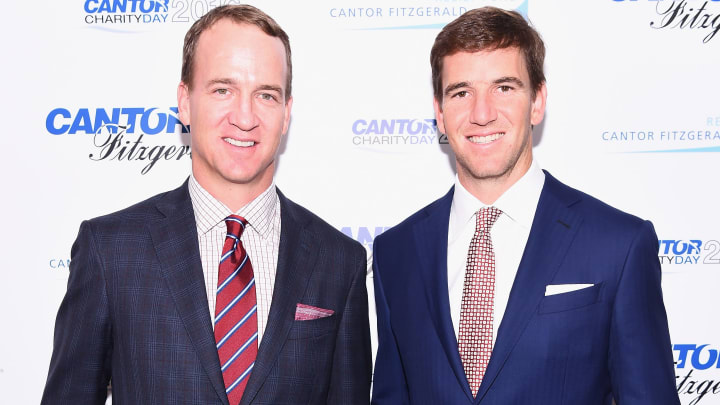 Time is definitely a cruel mistress.
It is maybe not so much Daniel Jones as it is time that has forced Eli Manning off the field, and it'sverifiable that history tends to repeat itself. Just take this anecdote from back in Eli and older brother Peyton's teenage years in New Orleans.
As his brother's heater comes after him, so does the pressure of the media, the fans, and the promise of Daniel Jones, eh?
Eli, to his credit, has not made a peep since the New York Giants announced Jones would replace him as the starter, even though some might argue Week 3 is way too soon. He's handled himself with grace -- as he did with the absolute PR disaster forced by former Giants head coach Ben McAdoo two years ago -- but this may really be the end of the line for him at long last, however anticlimactic it may be.
Meanwhile, Peyton rode off into the sunset with a second Super Bowl ring to match his little brother. You have probably also noticed he's in every commercial aired in the United States today, be it Papa John's (believe me, he'll team up with Shaq one day), Nationwide, or anybody else who can afford him.
He's sitting in retirement as probably one of the top two or three quarterbacks in NFL history, while Eli will have to wait to play again, if ever.
One must also consider whether Eli is being so quiet for the same reason he stepped aside from Peyton's fastball down at the Isidore Newman School: he knows the opposition is insurmountable.
While fans met the Giants' first-round selection with boos on draft night, plenty of them want fresh blood at the quarterback position. Jones has connections to the Manning family through his head coach at Duke and Manning Passing Academy leader David Cutcliffe, interestingly enough. He's the evolutionary Eli in various respects: looks, mannerisms, and perhaps even play.
It's possible that Eli sees everything happening around him and figures it's just time to step aside. Same as it ever was, to be sure.