Georgia Head Coach Kirby Smart Blasts NCAA Transfer Portal 'Bottom Feeders'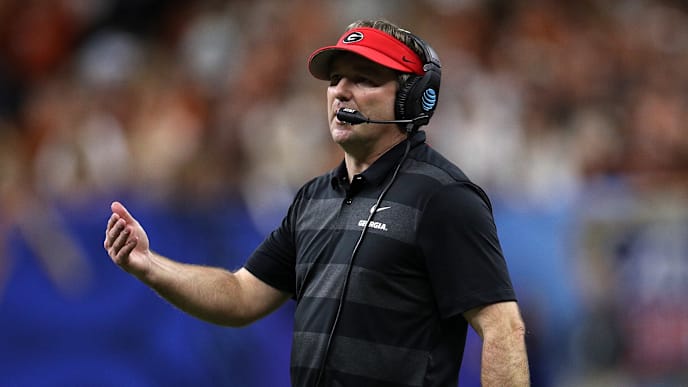 The NCAA transfer portal has made player movement in college sports easier than ever. The database lists players that are interested in transferring and allows colleges to openly recruit them.
While the portal is useful in many ways, Georgia head coach Kirby Smart thinks it's a shortcut for others. He even went on to call out colleges who rely on the portal as "bottom feeders" in his recent interview with CBS Sports' Dennis Dodd.
Smart did not hold back his thoughts, saying, "A lot of small colleges are saying, 'I'll just go recruit the portal and stop signing kids.' … We would never do that because we're not bottom feeders."
Smart recently lost one of his own players through the portal in Justin Fields. The quarterback did not get much playing time behind Jake Fromm so he ended up transferring to Ohio State. While Smart does not regret recruiting Fields, he also thinks the portal allows the players to take easily bypass adversity.
As Smart told Dodd, "My biggest problem with the portal is that it gives kids an easy way out. I know the devil's advocate of players' rights and they should be able to go wherever they want to go. But I'm telling you, no normal parent would say, 'At the first sign of trouble, I want my son to run.'"
The idea of freedom of player movement has made its way into college sports and the players are taking full advantage. The portal has made it much easier for players to find better opportunities. However, Smart's words are not completely wrong either. There are always those looking to take the utmost advantage.
But whether Smart likes it or not, the transfer portal will likely stick around for the time being.