10 Funniest Tweets After Lamar Jackson's Destruction of the Rams on Monday Night Football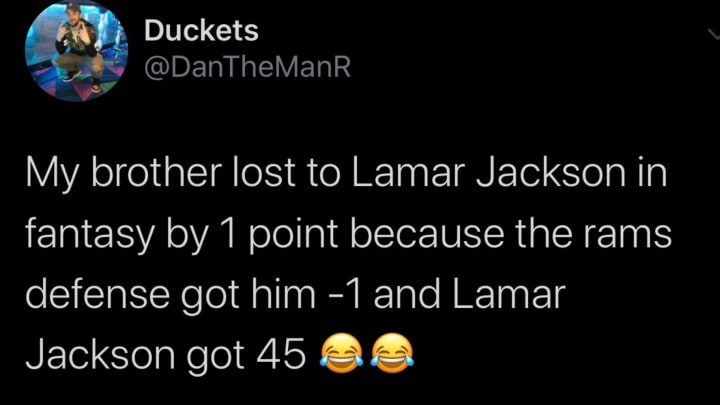 The Baltimore Ravens dominated the Los Angeles Rams from the first snap on Monday Night Football, as five touchdown passes from Lamar Jackson led the Ravens to a 45-6 humbling of Sean McVay and Jared Goff.
Twitter had a field day with all of the scouts who somehow claimed that one of the most electric quarterbacks in college football history was more suited to wide receiver in the pros.
In fairness, he'd probably dominate as a wide receiver too.
Bill Polian better not log on to Twitter tonight, because they saved the receipts on all of those old takes.
Jackson looked a Wade Phillips defense dead in the eyes and sliced them up in every which way. Now that's impressive.
Jackson made a defense with Aaron Donald and Jalen Ramsey look like a Boston College defense he'd dropped 60 on at Louisville. Was Donald even at the game today?
Former Raven Eric Weddle must not have had the best intel, because the Rams defense just didn't show up tonight.
Jackson whooped the Rams, who might have seen their playoff hopes evaporate after this beatdown.
Jackson threw as many touchdowns as incompletions. Let's take a moment to internalize that.
McVay, who was being hailed as a genius just a year ago, looked comatose on the sideline as his Rams were thoroughly outclassed in all three phases.
Jared Goff looked totally shellshocked, throwing two interceptions. He didn't throw a touchdown in the entire month of November, and now has more picks than touchdowns.
Now is probably not the best time to remind Rams fans that they don't have a first-round pick until 2022, is it?
The scary part about this game? Lamar might be improving. He could easily top tonight in short order. On the other side of things, McVay and Goff need to go back to the drawing board.